PRINTER FRIENDLY PAGE. To view this artist's HOME page, click or visit:
https://www.delafont.com/music_acts/t-pain.htm
**
Booking T-Pain - R&B Artists, Rap Artists - Urban, Pop-Rap - © Richard De La Font Agency, Inc. - For serious booking requests only, click here: For More Information
In the winter of 2005, southern soulster, T-Pain, burst onto the rhythmic scene with his debut "Rappa Ternt Sanga" and things just ain't been the same. As a former microphone fiend who was down with the rap pack known as the Nappy Headz, a five-man group who had moderate success with "Robbery" in the early 2000's, T-Pain was tired of the borders that divides hip-hop and soul, especially since he was excellent at both.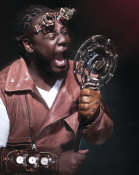 "I just got tired of turning on the radio and everything just sounding the same," remarks the Tallahassee, Florida, native whose government name is Faheem Najm. "I know it might sound corny, but I wanted to try and make something different." After doing an unofficial remix of Akon's "Locked Up," the African sensation signed T-Pain to his Konvict Music imprint.
Incorporating a soaring chorus, soulful handclaps and 808 grooves, his first single "I'm Sprung" (2005) detailed the maddening joy of finding a new love. "…with his acoustic guitar and Vocoder-laced vocals suggest a hurt that no exotic dancer can cure," wrote critic Chris Ryan in Spin magazine. While some compared the laidback electro with the best of the late Roger Troutman of the group Zapp, it was obvious that T-Pain was on a different level of creativity than his contemporaries.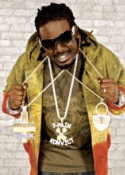 Followed by the enticing second single "I'm N Luv (Wit A Stripper). As T-Pain told MTV.com: "Dancers love [the song]," he professed. "There's finally a song about strippers that ain't degrading. It's not the shake-that-ass song or 'Let's go in the backroom.' It's a song that's appreciating strippers." Well on his way to a brilliant career, T-Pain sold a combined five million ring-tones of "Stripper" and "Sprung."
Coming back strong in 2007, T-Pain has been hard at work constructing his sophomore joint Epiphany. "There has been a growth inside of me since I made that first album," states T-Pain, reflecting on the time he spent working on his latest project. "To be blunt, I had to learn to stop being lazy in the studio. On the first album, I recorded what I thought people wanted to hear, this time it was about me being an artist."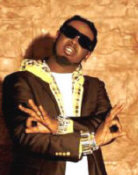 Personal without being pretentious, "Epiphany" offers the listener a variety of musical styles that ranges from the snappin' first single "Buy U a Drank" (featuring Yung Joc) to the rebel reggae furor of "Shotz" to the deep message of "Suicide." Indeed, with each song we can only marvel at the proficiency that T-Pain has developed, both on the mic and behinds the boards.
"I recorded over forty songs in six months," he says. "Of course, all of them weren't the hottest, but creatively I felt truly inspired when working on these tracks."
While T-Pain has no problem making hypnotic dance tracks like the amazing "Church," he can also induce tears with songs like "Suicide." Opening with the sorrowful chords of a Spanish guitar, T-Pain lyrically flashes upon the many ways the youth of today is killing themselves. "Having sex without condoms, driving drunk, selling drugs, all that is 'Suicide'. We do a lot of stupid stuff that only has one ending."
Having seen firsthand how drugs can destroy the fiber of family, T-Pain consciously chose to detour from that path. With his wife and daughter, he relocated to Atlanta in hopes of a fresh start. In addition, T-Pain built two studios in his sprawling basement.
Traveling throughout the world while on tour with label-mate Chris Brown (and later with Bow Wow), also gave T-Pain a different perspective on life and music. "I loved being in London, because overseas it seemed that people were taking different kinds of risks with their records," T-Pain says. "I was also impressed when I was in Brixton, and the club was filled with Black people and not one fight broke out. Where I come from, folks fighting inside the spot is a regular thing."
While T-Pain embraces both the old-school and current R&B, his complete persona shows us an artist who is unafraid of taking chances. "For me, soul music is about love, and it's that kind of warmth that I want to bring back to the music." Forget about the next level, because T-Pain is taking us places that have yet to be defined.
Hit songs include --
Bartender
Buy U A Drank (Shawty Snappin')
She Got It
I'm N Luv (Wit a Stripper)
I'm Sprung
Supa Sexxy
Freeze
Can't Believe It
Chopped 'N' Skrewed
Therapy
Church
Reverse Cowgirl
Rap Song
Booty Wurk (One Cheek At A Time)
Best Love Song
5 O'Clock
Turn All The Lights On
T-Pain may be available for your next special event.
For booking information, click HERE!
---
To book T-Pain for your special event,
contact Richard De La Font Agency, Inc.
For faster service, do this first - click on this link: https://www.delafont.com/contactselect.htm