PRINTER FRIENDLY PAGE. To view this group's HOME page, click or visit: https://www.delafont.com/music_acts/third-eye-blind.htm **

Booking Third Eye Blind - book Alternative Rock Music Artists - Post-Grunge, Pop/Rock, Adult Alternative Pop/Rock - © Richard De La Font Agency, Inc. - For serious booking requests only, click here: For More Information

In the mid '90s, Third Eye Blind spent a couple of years coming together, falling apart and coming together again, sleeping on floors and playing on the barely-existent San Francisco club scene. But as soon as real opportunity presented itself - in the form of their self-titled 1997 debut album with Elektra - they took it, and took off.

They scaled the charts with this album and its first single "Semi Charmed Life." They then made clear their intention to stick around by reeling off four more undeniable rock anthems - "Graduate," "How's It Going To Be," "Losing A Whole Year" and "Jumper." The album sold six million copies, and remained on the Billboard Top 200 Albums chart for well over a year. Their 1999 follow-up, "Blue," approached double platinum on the strength of the Stones-inflected single "Never Let You Go" and a sold-out worldwide tour that lasted a year.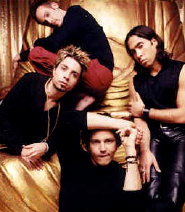 One might construe three years between albums to be evidence of slacking, but nothing could be further from the truth. "We'd make more albums if we didn't like playing live so much," declares Brad Hargreaves. Jenkins adds, "In a way, I envy hip hop producers like Missy Elliott, who can stay home and make more records. But they miss out on the intensity of the exchange with a live audience, which I would never give up. But it's hectic and it's crazy, and after two albums back to back I had to stop for a year to rebuild."
Upon coming off the road, rebuild they did, literally, constructing their own studio, right down to a summer spent putting up brick and sheetrock. Once it was complete, the band set up its collection of vintage analog recording gear, vital for capturing their organic sound. "I want people to know that this album is homemade," says Stephan. "Artists like Led Zep and Bob Marley set the sonic bar for music, for me. Our challenge is to make music for 'now' that maintains the purity of analog sound."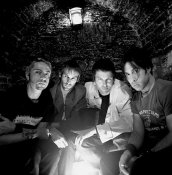 In other areas, after his mother was diagnosed with breast cancer, Stephan organized the Breathe Benefit Concert in Los Angeles, which brought together a wide range of artists to raise money for breast cancer treatment and research.
Then it came time to hunker down and begin writing and recording another album. "The first two albums were written during times when I didn't feel scrutinized," Stephan relates. "What matters to me are the unselfconscious creative impulses. It can be a struggle, because I second-guess myself, but eventually, I got to the point where I realized our songs serve a purpose for me, they put things into perspective for me. Only when they work for me do they become eligible to do it for someone else."
Jenkins adds, "It certainly wasn't writer's block. If this was on vinyl, it would be a double album. After our hiatus, we wanted to give our audience a big dose. And it was still hard for us to decide what to keep on the album. So we hope to release more music from these sessions in a short time."

Another part of "getting to the nitty gritty" involved simplifying the recording process, a task made easier by working in their new studio, with Stephan serving as producer. "On 'Blue,' we succumbed to the studio maybe more than we should have," Stephan explains. "The best performances are spontaneous rather than a recital. It took a while to trust that again, to realize that the first takes were often the best. It's okay to paint quickly and make some mistakes. It gives a song and an album a sense of momentum. So even though it took us a while to do, much of it was done on the first take."
Says co-producer and bassist Arion Salazar, "In hindsight we felt 'Blue' was unrealized. So Stephan and I worked every day, forever, to get these songs where we wanted them to be. I'm not whining - I'm happy to be able to do it - but it was grueling. It's taken us in so many directions, and we're so far removed from the starting point, that we can actually be objective. And now I think we have a great album. We're proud of what we've done."
Launched April '97 when the band was originally slated as a support act, Third Eye Blind quickly found themselves becoming headliners. "We were supposed to open up for somebody, but after three shows, we were headlining," says Jenkins. "It didn't seem unusual to us because we always put on our own shows in the past." In fact, the only two bands 3EB have supported are U2 and The Rolling Stones. Not bad for an upstart band pegged early on as a group who refused to conform.
Jenkins says, "I founded the band partly because the music scene was so conservative. We didn't do this to fit into the music scene around us. We did this because we didn't fit in. All of the bands in the Bay Area were doing the same sort of shoe-gazing, sixties or seventies retro-alterna-pop-crud-thing. I probably took more inspiration from this tumultuous tight-knit group of friends coming up in The City who were into clubbing, spoken word and generally screwing each other over."
"As a group, we've always been inspired by bands that performed, like The Clash and The Who, bands that blew audiences away and gave more energy than they took."
Even though the audiences have grown, Third Eye Blind still feels like a secret. "We're still surprised that people know about us," says Jenkins. The band has seen its fans fill vans and station wagons and follow them from show to show.
But 3EB's vitality has always come from personal contact. "The most profound experience has been playing live," says Stephan. "The way the fans connect to our music. When we made the songs they came from a very real place. We didn't write them for public consumption. We write about flawed characters who are somehow redeemable. It's very humbling to have people come up to you and say a song really reached them. It shows we're all in this place together. This has left the greatest impact on me."
"We get asked about the name all the time," laughs Stephan. "It's not a mission statement or anything like that. I always have liked names with wit and irony. I was a big fan of Camper Van Beethoven. The name also reflects a certain sense of magic and dreams. We thought that was very lacking in music when we started - music for a blind time, if you will. It also takes the piss out of that phony spiritual thing. Third Eye Blind has always been about real things."
Third Eye Blind has tried to affirm that real touch right down to the design of their stage show. It's modeled after the kind of run-down club where such camaraderie can't be faked. In Jenkins words: "It mirrors what the songs are about. We deal with things that are lost, things you can't get back. There's a darkness there, but also reconciliation. The set is a dilapidated club, and we're squatters in that club."
Squatters who, for once, get to run the show. This attitude of insurgency permeates every level of 3EB's existence.
It's been quite a roller coaster ride for a group who never relied on the usual formula to sell records.
Hits include: "How's It Going To Be",
"Never Let You Go", "Semi-Charmed Life",
"Jumper", "Anything", "Losing A Whole Year",
"Graduate", "Blinded (When I See You)",
"Deep Inside Of You", "10 Days Late".
Third Eye Blind may be available for your next special event!
For booking information, click HERE!
---
To book Third Eye Blind for your special event,
contact Richard De La Font Agency, Inc.
For faster service, this is required first - click on this link: https://www.delafont.com/contactselect.htm