PRINTER FRIENDLY PAGE. To view this group's HOME page, click or visit: https://www.delafont.com/music_acts/Three-Dog-Night.htm **

Booking Three Dog Night - Rock Music Artists - Classic Rock, AM Pop, Pop/Rock - © Richard De La Font Agency, Inc. - For serious booking requests only, click here: For More Information

Vocal Group Hall of Fame
-- inducted 2000

Three Dog Night scored a succession of 21 hit singles, including eleven Top Tens, and twelve consecutive gold albums from 1969 to 1975, thanks to the slick, sometimes soulful vocal harmonies of singers Danny Hutton, Chuck Negron, and Cory Wells and an excellent ear for quality material.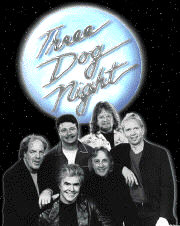 When Three Dog Night struck gold with "Joy To The World" in 1971, fans worldwide acclaimed their driving pop/rock sound and powerful harmonies. Today Three Dog Night delivers their signature sound to audiences spanning generations. The current Three Dog Night line up features founding member Danny Hutton on lead vocals, as well as Michael Allsup (lead guitar). Paul Kingery (bass), and Pat Bautz (drums) joined the group after it reformed in 1981 after a six-year hiatus.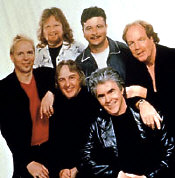 Brought together originally in 1968 by Danny Hutton, with the novel concept of showcasing lead singers who could also harmonize together, the group was enormously successful right from the start. They took their name from an Australian expression describing low nocturnal temperatures in the outback (the colder the night, the more dogs needed to keep warm while sleeping).
Hutton, who had graduated from loading and unloading records at the Disney studio to recording as a solo artist, had met Cory Wells while Cory was touring with Sonny and Cher; Danny met Chuck Negron through mutual friends.
The group had no hang-ups about 'doing only their own songs'. They recorded the best new material from the best new songwriters and wound up with fourteen gold albums, nine gold singles and sold more than forty million units. Three Dog Night toured extensively during the seventies, breaking attendance records in venues ranging from concert halls to football stadiums. In 1975, however, the rigors of non-stop roadwork caught up with the group.
"We became disenchanted," Wells says today, "We just quietly backed out of the picture. We have always had a sort of verbal agreement that we were never going to exploit the public for our own gain. We are not going to do four or five 'farewell tours' just to rake in the money. We had come on the scene quietly and we were going to leave the same way, with dignity."
Hutton, the black-haired Irishman, relaxed awhile at home in Los Angeles, then left for Central America, England, and eventually his home town of Buncrana, Ireland. Danny formed a management/booking agency which thrived. Among those bands he managed was the 'premier punk band' "FEAR" and he booked bands such as "The Go-Go's" and "X". He recorded two songs for motion picture soundtrack albums "Wouldn't It Be Good" for Pretty in Pink and "Brand New Day" for American Flyers.
Wells packed his family into an automobile and leisurely toured the United States.
Although each band member needed to 'get away' from the hectic world of pop music, each began, eventually to feel the need to return. Unfinished business involving the original group got them together again. To their surprise, they found they all shared the same feeling, a resurgence of interest in music and a growing desire to try it all over again. As Danny Hutton puts it, "We had a test rehearsal and discovered the old magic was still there." Three Dog Night was reborn.
Hit songs include --
Black and White
Joy To The World
Mama Told Me (Not To Come)
An Old Fashioned Love Song
Shambala
Easy To Be Hard
Never Been To Spain
One
Pieces of April
Liar
Eli's Coming
The Family of Man
Celebrate
Out In The Country
Let Me Serenade You
One Man Band
Try A Little Tenderness
Til The World Ends
Three Dog Night may be available for your next special event.
For booking information, click HERE!
---
To book Three Dog Night for your special event,
contact Richard De La Font Agency, Inc.
For faster service, do this first - click on this link: https://www.delafont.com/contactselect.htm