PRINTER FRIENDLY PAGE. To view this artist's HOME page, click or visit: https://www.delafont.com/music_acts/ti.htm&nbsp **

Booking T.I., rap artist, Clifford Harris - book Rap Music Artists - Gangsta Rap, Southern Rap - © Richard De La Font Agency, Inc. - For serious booking requests only, click here: For More Information

T.I. started rapping at age 9 and signed a record deal at 19. He may be young, but he is a hero and a veteran, and he's fast becoming a new voice of the South.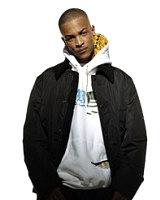 Based in Atlanta, T.I. has generated a strong underground buzz in the city as one of the area's most prolific rappers.
On his 2001 debut, 'I'M SERIOUS' (on Arista Records), T.I. jumped outta the gate collaborating with big names like The Neptunes, Jazze Pha, DJ Toomp, and Beenie Man. Since then, he has put out tracks on various mix-tapes, been a guest collaborator with other artists, and continued to release his own albums independently on the Grand Hustle label. T.I. is also featured on Bone Crusher's hit single, 'Never Scared.'

T.I., a young street-savvy survivor, first cut his teeth on rap music as early as age seven, and he's been working to build his credibility over the years among Atlanta's hip-hop elite. LL Cool J, Ice Cube, and Too $hort are just a few of the rap legends who made an impression on the youngster, who decided to pursue rap professionally at age 11. After a few run-ins with the law, T.I. became determined to channel his energy into his words and music. "I'm not glorifying my experiences. I'm just shedding light on the situation,' he says. 'There are people like me and I want them to know you can make it; you can make a better way for yourself."
Hit songs include --
What You Know
Big Things Poppin' (Do It)
Bring 'Em Out
U Don't Know Me
Why You Wanna
You Know What It Is
Top Back
Let's Get Away
T.I. vs. T.I.P.
ASAP
24's
Ride Wit Me
Be Easy
Motivation
Where They At
Get Loose
Hurt
Touchdown
T.I. may be available for your next special event.
For booking information, click HERE!
---
To book T.I. for your special event,
contact Richard De La Font Agency, Inc.
For faster service, this is required first - click on this link: https://www.delafont.com/contactselect.htm