PRINTER FRIENDLY PAGE. To view this artist's HOME page, click or visit: https://delafontagency.com/tim-mcgraw/ **
Booking Tim McGraw - Country Music Artists - Neo-Traditionalist Country, Adult Contemporary, Contemporary Country, Country-Pop - © Richard De La Font Agency, Inc. - For serious inquiries only, click here: For More Information
The odds of anyone actually making it in Nashville are not good. After a series of singles from his self-titled album failed to break through at country radio, the odds looked even worse for Tim McGraw. "I was told by one producer to pack up and go home. I would never make it," McGraw says, laughing.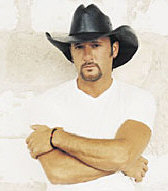 "The first record didn't work – but some of the songs we were playing live were getting incredible reactions from the fans. My record company didn't want me to record one song in particular – until they saw me do it live." Since this debut album, Tim McGraw has gone on to sell nearly 25 million albums and singles.
That very song, "Indian Outlaw," was the break Tim McGraw had been looking for and before he knew it, "Not A Moment Too Soon," the album that soon followed, would become the biggest selling album of the year and would go on to sell six million copies. Following the hit single ("Indian Outlaw") was McGraw's first Number One record, "Don't Take The Girl" – and the hits continued with "Not A Moment Too Soon," "Refried Dreams" and "Down On The Farm."

Tim McGraw went from playing clubs and honky tonks to a headline-touring act literally overnight. "It was a crazy time," says McGraw. "We just wanted to play. I think we played over 250 shows that first year."
Following a huge hit is always tough for an artist, but "All I Want" sold more than three million copies and spawned the five week Number One anthem "I Like It, I Love It." "I love that album," says McGraw. "It has some of my favorite songs I have ever recorded like 'Can't Be Really Gone.'" And of course, the fans loved it. "That's one of my guiding thoughts. I am a fan myself. I go to shows, I listen to the radio, and I watch other acts. I like to think about what the fans want."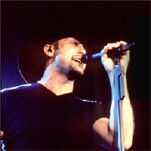 By 1996, Tim McGraw became one of the hand-full of top touring acts in country music. His choice of Faith Hill as the opening act for his "Spontaneous Combustion Tour" led not only to the most successful country tour that year, but also to their marriage in late 1996.
"My family keeps me focused. They are the most important thing to me," adds McGraw. "Before them, it was just about making music. Then I saw the responsibility that comes with being a husband and a father. It required me to make some major adjustments."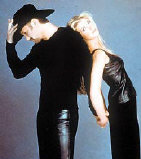 With his personal life in order, Tim went into the studio with co-producers Byron Gallimore and James Stroud. The result could be heard everywhere. Even the industry experts were singing his praises. Tim McGraw began to win awards. CMA Vocal Event of The Year. Four ACM Awards. CMA Album of The Year. "Everywhere" became the first Album of the Year two years running in Radio and Records Magazine. The lead off single, "It's Your Love" became the first single in modern history to spend six weeks at Number One in Billboard, and was declared Single of The Year in 1997. "Just To See You Smile" accomplished the same feat – six weeks at Number One in Billboard and another Single of The Year in 1998.
And the roll continued: A major tour sponsorship from Bud Light and success as a co-producer of Jo Dee Messina. "I'm really happy for Jo Dee," says McGraw. "She went through her own tough times. She almost lost it all. We knew the only answer was to make a great record." And they did. Her second album was nominated for Album of The Year from the ACM. "I love producing," says McGraw. "I try to bring an artist and fan perspective to the studio. But I really rely on Byron Gallimore. He and James Stroud have been my teachers in the studio. Any success I have had as a producer, I owe to them."
Shortly after Tim McGraw finished recording "Everywhere," he began work on his next album, "A Place In The Sun." More than four million copies have been sold. The project garnered the coveted Album of The Year trophy at the 1999 CMA Awards.
"I have learned over the making of the first four albums how important it is to give yourself the time to make a record. With all the commitments an artist has, you just can't wait until the last minute. We started looking for songs right away," says McGraw. He has earned a reputation in Nashville as an artist with a great song sense and is actively involved in the song search. The team around McGraw aids in the search. Producer Byron Gallimore and his wife Missi are the clearinghouse for most songs. "I have a team that works. We know each other so well, personally and professionally. They work really hard with all the publishers and writers to find what's right for me," states McGraw.
Five singles were released, several multiple week Number Ones. He acquired a second straight ACM win as Male Vocalist and was named "Father of The Year" by the National Fatherhood Initiative, a national non-profit organization.
Tim McGraw's box office draw continued its upward climb as he launched "A Place In The Sun Tour," which featured the Dixie Chicks, and added more fuel to the hot George Strait Festival tour for the third year. In addition, McGraw played a series of local club shows, his way of getting back to his touring roots, dubbed "Bread & Water," (based upon the pay!). McGraw would make a surprise announcement the day of the show as to the location. Proceeds benefited local children's charities.
On July 12, McGraw kicked-off the Soul 2 Soul - 2000 with Hill, which played to sell out crowds in 64 cities through December 12, 2000, including a sold out show at Madison Square Garden in New York City. "I took a picture of the marquee the day we arrived. I waited a lifetime to sell out this venue!" explained McGraw. The Soul 2 Soul - 2000 wrapped as the top grossing country tour of the year, the top five tour in all genres of music – grossing more than 50 million dollars.
The "Greatest Hits" package was launched to record buyers just before Christmas of 2000, selling two million copies in two months. It debuted at Number One on the country charts, selling 306,416 units, the highest sales debut of McGraw's career to date. The project contained 15 previously released singles, which spent eight consecutive weeks at Number One. The celebration of the tremendous sales launch was sweet but McGraw kept his focus on the album he had anticipated. The 2001 Billboard Awards named the project "Album of the Year."
As the release date of the much anticipated studio project "Set This Circus Down" moved closer, Tim McGraw relished in the glory of his recent – and first – Grammy win (Vocal Collaboration with Hill for "Let's Make Love"). The first glimpse of the album came with the performance of "Things Change" during the 2000 CMA Awards show. The standing ovation performance was taped by various radio programmers, circulated through Napster, and ultimately charted.
The debut single, "Grown Men Don't Cry" became the fastest rising single of McGraw's career and was followed by the #1 single "Angry All The Time."
The CMA named him "Entertainer of the Year" in November 2001.
Notable awards include --
| | | |
| --- | --- | --- |
| CMA | Entertainer of the Year | 2001 |
| CMA | Male Vocalist of the Year | 2000 |
| CMA | Album of the Year | 1999 |
| CMA | Male Vocalist of the Year | 1999 |
| TNN/Music City News | Vocal Collaboration of the Year | 1999 |
| Academy of Country Music | Top Male Vocalist | 1999 |
| TNN/Music City News | Male Artist of the Year | 1999 |
| CMA | Album of the Year | 1998 |
| Academy of Country Music | Top Male Vocalist | 1998 |
| Academy of Country Music | Vocal Event of the Year | 1998 |
| Academy of Country Music | Song of the Year | 1997 |
| Academy of Country Music | Single of the Year | 1997 |
| Academy of Country Music | Video of the Year | 1997 |
| CMA | Vocal Event of the Year | 1997 |
| Academy of Country Music | Vocal Event of the Year | 1997 |
| American Music Awards | Favorite New Artist | 1995 |
| TNN/Music City News | Star of Tomorrow -- Male | 1995 |
| Academy of Country Music | Album of the Year | 1994 |
| Academy of Country Music | Top New Male Vocalist | 1994 |
Hit songs include --
Southern Voice
Angry All the Time
Back When
Don't Take the Girl
Everywhere
Grown Men Don't Cry
I Like It, I Love It
It's Your Love
Just to See You Smile
Last Dollar (Fly Away)
Live Like You Were Dying
My Best Friend
My Next Thirty Years
Not a Moment Too Soon
Please Remember Me
Real Good man
She Never Lets It Go to Her Heart
Something Like That
Unbroken
Tim McGraw may be available for your next special event.
For booking information, click HERE!
---
To book Tim McGraw for your special event,
contact Richard De La Font Agency, Inc.
For faster service, do this first - click on this link: https://www.delafont.com/contactselect.htm
For serious booking requests only.
Thank you for your cooperation.