PRINTER FRIENDLY PAGE. To view this artist's HOME page, click or visit: https://www.delafont.com/music_acts/Ty-Herndon.htm **

Booking Ty Herndon - Country Music Artists - Contemporary Country, Neo-Traditionalist Country - © Richard De La Font Agency, Inc. - For serious booking requests only, click here: For More Information

There's no denying the talent of this impassioned entertainer. Ty Herndon soared to instant success as his first single, "What Mattered Most," broke the record for highest debut release and soon topped the Billboard and Radio & Record's charts. He achieved that feat once again with the title song from his second album, "Living In A Moment."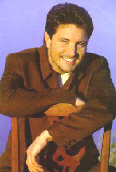 His voice embraces with a familiar warm style and soulful depth earning him the Best New Artist award at the 1995 Country Radio Music Awards, a nomination for Star Of Tomorrow: Male Artist at the 1996 TNN Music City News Awards, nomination for Favorite New Artist - Country at the 1996 American Music Awards, and nominations from Performance Magazine Reader's Poll and the British Country Music Awards. In addition, his verve helped make "What Mattered Most" the 1996 Music Row Song Of The Year.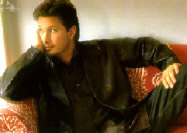 Raised in Alabama, Ty developed his vocal ability singing Southern gospel. He followed his dream to Nashville where he sang song demos and jingles and was a member of the Tennessee River Boys who were later to become Diamond Rio. He gained national attention as a StarSearch finalist and then moved to Texas where he developed his ability to capture a crowd.

Ty's convincing vocal ability, meaty songs and a blazing live stage show grip his audiences and have them screaming for more.
Hit songs include --
Heart Half Empty
I Want My Goodbye Back
What Mattered Most
Living in a Moment
She Wants to Be Wanted Again
I Have to surrender
Loved Too Much
Hands of a Working Man
It Must Be Love
A Man Holdin' on (To a Woman Letting Go)
Steam
No Mercy
You Can Leave Your Hat On
A Love Like That
Ty Herndon may be available for your next special event.
For booking information, click HERE!
---
To book Ty Herndon for your special event,
contact Richard De La Font Agency, Inc.
For faster service, do this first - click on this link: https://www.delafont.com/contactselect.htm