PRINTER FRIENDLY PAGE. To view this artist's HOME page, click or visit: https://www.delafont.com/music_acts/vanessa-bell-armstrong.htm **
Booking Vanessa Bell Armstrong - Gospel Music Artists - Contemporary Gospel, Urban - © Richard De La Font Agency, Inc. - For serious booking requests only, click here: For More Information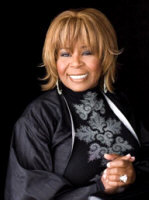 Gospel Music Hall of Fame
-- inducted 2001
Vanessa Bell Armstrong's vocal stylings are not too far detached from those of the 'Queen Of Soul,' Aretha Franklin.
Raised in the same church congregation that nurtured gospel greats Andrae Crouch, Walter Hawkins and Tramaine Hawkins, BeBe Winans & CeCe Winans and The Clark Sisters to name just a few, Vanessa is considered by many to be the most versatile vocalist in gospel music today.
A native of Detroit and mother of five, she got her career moving with the assistance of Dr. Mattie Moss Clark. Vanessa originally recorded gospel albums for the Onyx label, including "Peace Be Still" (1983) and "Chosen" (1984). She recorded the theme song for the television series 'Amen,' where her links to the Reverend Al Green (and ultimately to Rev. Claude Jeter) were apparent.
Vanessa Bell Armstrong then moved to Jive Records and took a more secular approach with "Vanessa Bell Armstrong" (1987), which included "You Bring Out The Best In Me" and "Pressing On." "Wonderful One" (1989) and "The Truth About Christmas" (1990) followed. Vanessa also recorded a duet with Jonathan Butler, "True Love Never Fails" (1988).
Later albums include "Something On The Inside" (1993) and "The Secret Is Out" (1995). Three years later, she released her first live album, "Desire of My Heart: Live." A 'best-of' collection appeared in 1999.
The acting career of Vanessa Bell Armstrong began in the 1980's when she appeared in the Broadway hit "Don't Get God Started." She followed up with a cameo role in Oprah Winfrey's television movie "The Women of Brewster Place" and now has more than a dozen acting credits.
"Music is my first love, but I like the challenge of acting," she says. "I am in complete control of a concert, but in a play I must have the discipline to follow the producer's vision."

"Vanessa Bell Armstrong has more than paid her dues" says David Gough, president and founder of the Detroit-based hall of fame. "She is a diva in her own right."
Hit songs include --
You Bring Out The Best In Me
Something On The Inside
So Good To Me
Other notable songs include --
I'm Encouraged
Don't Give up on Jesus
Pressing On
Father, I Stretch
We Sing Glory
Something Inside So Strong
Learn to Love
Vanessa's Medley: What Shall I Render/Faith/Nobody But Jesus/For God So
You Can't Take My Faith Away
Vanessa Bell Armstrong may be available for your next special event.
For booking information, click HERE!
---
To book Vanessa Bell Armstrong for your special event,
contact Richard De La Font Agency, Inc.
For faster service, this is required - click on this link: https://www.delafont.com/contactselect.htm