PRINTER FRIENDLY PAGE. To view this group's HOME page, click or visit: https://www.delafont.com/music_acts/War.htm **

Booking WAR - Pop/Rock, Funk, Soul - © Richard De La Font Agency, Inc. - For serious booking requests only, click here: For More Information

Freewheeling WAR mixed rock, jazz, and soul influences into a spicy stew throughout the '70s, resulting in a series of R&B and pop hits sporting funky melodies and politically aware messages.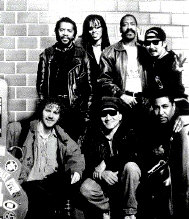 Formed in Long Beach in 1969, the large combo initially served as rocker Eric Burdon's group, backing the ex-Animal on his 1970 million-seller "Spill the Wine." Bidding Burdon adieu, the band signed with United Artists in 1971 and enjoyed its first smash the next year with "Slippin' into Darkness." Tapping into a sizzling, horn-fueled rock/soul synthesis, "The World Is a Ghetto," "The Cisco Kid" and "Why Can't We Be Friends?" all went gold during the mid-'70s.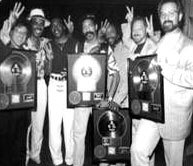 Despite numerous personnel and label changes, WAR remained eminent throughout the '80s.
In the early '90s, WAR experienced a revival, partially due to the fact that all of their albums were reissued. But the group was also acknowledged as a primary influence on contemporary R&B and hip-hop. WAR returned to recording in 1994 capitalize on their new-found popularity.
Hit songs include --
Low Rider
Summer
L.A. Sunshine
The Cisco Kid
Spill The Wine
The World Is A Ghetto
Summer
Galaxy
Gypsy Man
Heartbeat
Why Can't We Be Friends?
You Got The Power
Good, Good Feelin'
Slippin' Into Darkness
Outlaw
Me And Baby Brother
Youngblood (Livin' In The Streets)
Groovin'
You Got The Power
Me and Baby Brother
WAR may be available for your next special event.
For booking information, click HERE!
Please note that the above images may not accurately portray current band membership. Specifically, Harold Brown and Howard Scott do not play in the group WAR any longer. On January 11, 2001 we were informed that the ownership of the name WAR was in litigation (at that time) in the United States Court of Appeals for the 9th Circuit.
---
To book WAR for your special event,
contact Richard De La Font Agency, Inc.
For faster service, do this first - click on this link: https://www.delafont.com/contactselect.htm