PRINTER FRIENDLY PAGE. To view this group's HOME page, click or visit: https://www.delafont.com/music_acts/weezer.htm **

Booking Weezer - Alternative Rock Music Artists - Emo, Punk-Pop, Post-Grunge, Alternative Pop/Rock - © Richard De La Font Agency, Inc. - For serious inquiries only, click here: For More Information

U.S. guitar pop artisans from Los Angeles, California, USA, Weezer originally was comprised of Rivers Cuomo, Brian Bell, Matt Sharp (later replaced by Mikey Welsh), and Patrick Wilson. Cuomo grew up in rural Connecticut before deciding to move to Los Angeles at the age of 18 to form a band. It was too little immediate success, but, tortured by the sundering of a relationship, he began to write his own songs.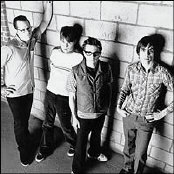 Bell first learned guitar in Tennessee by playing along to television shows such as Hee Haw, picking on a ukulele his grandmother won at a bingo game. Sharp brought the unlikely influences of Talk Talk and Gary Numan to the bass player's role. Wilson was introduced to the other members via fellow Buffalo citizen Pat Fin (of Winkler). The four protagonists had met as strangers who found themselves abroad in Los Angeles, and decided to form a band together. The official date of formation was 14 February 1992, signing to DGC Records in June of the following year.
On the back of offbeat singles, "Undone - The Sweater Song" and "Buddy Holly" (a tale of high school prom rejection featuring a memorable Happy Days pastiche video), and seven months' touring their native country, their self-titled debut album, produced by Ric Ocasek of The Cars and Chris Shaw in New York, went on to sell nearly a million copies.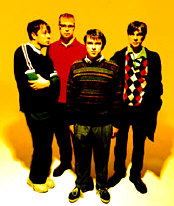 Their preference for goofy garage aesthetics soon distinguished them, and, with fuzzboxes and falsetto harmonies (from Sharp) to the fore, comparisons to They Might Be Giants hardly delineated their musical compass, despite helping to pinpoint their humor. The participants, meanwhile, remained awestruck at the depth of their appeal: "We've sold all these albums when, honestly speaking, we're a super straight-ahead American guitar garage rock band."
The title of their 1996 album infuriated the security company Pinkerton Service, and they issued legal proceedings shortly after its release. Wilson and Sharp also recorded with the Rentals; the latter left Weezer in 1998 to concentrate on this new outfit. The third collection, "The Green Album" was a sparkling return to the infectious heavy pop of their debut. "Don't Let Go," "Photograph" and "Hash Pipe" all follow each other on the album, a glorious opening suite of power chord heaven.
Hit songs include --
I Want To
Beverly Hills
Perfect Situation
Pork and Beans
Buddy Holly
Hash Pipe
Troublemaker
Undone - The Sweater Song
Say It Ain't So
Dope Nose
We Are All On Drugs
Island in the Sun
Keep Fishin'
Photograph
El Scorcho
This Is Such A Pity
The Good Life
Weezer may be available for your next special event.
For booking information, click HERE!
---
To book Weezer for your special event,
contact Richard De La Font Agency, Inc.
For faster service, this is required first - click on this link: https://www.delafont.com/contactselect.htm
For serious booking requests only.
Thank you for your cooperation.