PRINTER FRIENDLY PAGE. To view this group's HOME page, click or visit: https://www.delafont.com/music_acts/Whispers.htm **

Booking The Whispers - R&B Groups - Smooth Soul, Pop-Soul, Urban - © Richard De La Font Agency, Inc. - For serious booking requests only, click here: For More Information

Vocal Group Hall of Fame
-- inducted 2003

In an age where many records are cooked up in marketing meetings, it's a rare pleasure to come across a collection that has its roots in something real and honest and downright soulful. Such a collection is the Interscope Records debut from one of the music industry's most beloved and enduring vocal groups, The Whispers: "Song Book Vol.1 /The Songs of Babyface."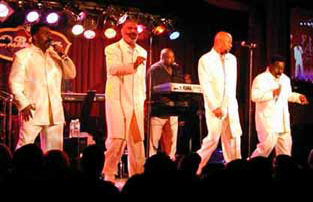 In a perfect marriage of singers and songs, "Song Book Vol.1 /The Songs of Babyface" takes The Whispers (who have been making music and hits for nearly three decades), creatively back full circle to their early days at the seminal Solar Records. It was there that they first joined forces with a fledgling singer/songwriter named Kenneth "Babyface" Edmonds and his then partner L.A. Reid.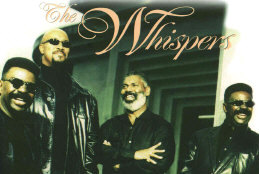 The song that Face and Reid gave The Whispers, "Rock Steady," would become a top ten pop and number one R&B hit and would jump-start both Face and Reid's careers. "We all got our starts back there at Solar," explains Walter Scott, one of The Whispers founding members and its lead tenor, "But our paths kind of went different ways. So we lost the opportunity to continue recording with Babyface. Since then we'd always wanted to do a selection of his songs and finally, the right time came for that record."
The Whispers saga began in the Watts section of Los Angeles. It is there that twin brothers Walter and Wallace Scott, Nicholas Caldwell, Marcus Hutson and Gordy Harmon first sang together, blended their harmonies and made places to insure that music was their life.

In 1971, Leavill Degree replaced Gordy Harmon and The Whispers signed on with a brand new label co-owned by Don Cornelius, the host of the popular TV show "Soul Train." While on the Soul Train label, The Whispers had hits with "One For The Money," and a soulful cover of Bread's "Make It With You." Soul Train metamorphosed into Solar Records and The Whispers continued churning out hits.

In 1980, the group had a breakthrough with their first gold single "And The Beat Goes On" which went #1 R&B and top 20 pop. The string of hits kept growing throughout the 80's and along with it came three gold albums, "Christmas Moments," "Love Is Where You Find It" and "Love For Love" and two platinum albums, "The Whispers" and "Imagination."

Now, at a new home and with renewed public interest in the sort of solidly soulful, decidedly mature rhythm and blues that has always been their hallmark, The Whispers continue with the personal and passionate work that their fans enjoy.
Hit songs include --
And The Beat Goes On
One For The Money
Rock Steady
It's A Love Thing
Innocent
Lady
Keep On Lovin' Me
My Heart Your Heart
Tonight
I've Got A Feeling
Put Me In The News
Seems Like I Gotta Do Wrong
Is It Good To You
In The Raw
(Let's Go) All The Way
Contagious
Make It With You
Just Gets Better With Time
(Olivia) Lost And Turned Out
Where There Is Love
The Whispers may be available for your next special event.
For booking information, click HERE!
---
To book The Whispers for your special event,
contact Richard De La Font Agency, Inc.
For faster service, this is required first - click on this link: https://www.delafont.com/contactselect.htm
For serious booking requests only.
Thank you for this consideration.