PRINTER FRIENDLY PAGE. To view this artist's HOME page, click or visit: https://www.delafont.com/music_acts/wisin-y-yandel.htm **

Booking Wisin Y Yandel - Latin Music Artists - Reggaeton - © Richard De La Font Agency, Inc. - For serious booking requests only, click here: For More Information

Though Puerto Rican reggaeton duo Wisin & Yandel were around for some time (their debut album, Reyes del Nuevo Milenio, was released in 2000) and gained fans and recognition with records like 2004's De Otra Manera and 2005's Mi Vida: La Pelicula, it wasn't until Pa'l Mundo hit the number one Latin album spot on the Billboard charts that they began to be recognized outside the Spanish-speaking community. That record, which featured guest appearances from Aventura and reggaeton star Daddy Yankee, was released in 2005.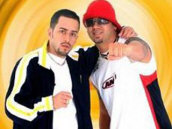 Born Juan Luis Morera and Llandel Veguilla respectively, the duo of Wisin & Yandel are a bright hot comet of rhythm and dynamic energy making their mark in a genre that fuels today's hottest musical movement, Reggaeton, a musical genre that distinguishes itself and sets itself apart by fusing Jamaican dancehall with Panamanian reggae root. Setting themselves apart with music so unique that it has the ability to cross gender lines and appeal to all races and ages, Wisin & Yandel have become household names on the music scene and as respected artists.

Hailing from Puerto Rico and crediting their musical influences to Reggaeton pioneers Vico C and El General, this dynamic duo lays down their own particular stamp on the world of Reggaeton, making them not only original, but a breath of fresh air with insightful lyrics and a drive for excellence that refuses the thought of mediocrity. Their love for music is their bond and their unique chemistry lyrically and as performers is what sets them apart. Respected friends and colleagues such as Grupo Aventura, Daddy Yankee, Don Omar and Hector "el Bambino" collaborated on their album "Pa'l Mundo".

They have raised the bar and set the standard as the first rappers to receive a nomination to the prestigious Billboard Awards, and have seen their albums go gold. They have been awarded at Premios Tu Música in 2002, and continue to strive not only for excellence among their peers but among their fans.

As an added bonus in their strive for excellence, they are men with a purpose and a social conscience. They lend both their time and their name to foundations and charities like the Carlos Arroyo Association, and the Home for Children Living with AIDS to name a few. And, as all men with a purpose, they will continue to deliver their own brand of reggaeton, determined to keep us not only dancing, but expecting from them the same degree of excellence that they expect from themselves.
Hit songs include --
Llame Pa' Verte
Pam Pam
Pegao
Sexy Movimiento
Rakata
Ahora Es
Noche De Sexo
Atrevete
Siguelo
Intro
El Telefono
Oye, Donde Esta El Amor
Yo Te Quiero
Nadie Como Tu
Paleta
La Pared
Delirando
Wisin y Yandel may be available for your next special event.
For booking information, click HERE!
---
To book Wisin y Yandel for your special event,
contact Richard De La Font Agency, Inc.
For faster service, this is required first - click on this link: https://www.delafont.com/contactselect.htm