PRINTER FRIENDLY PAGE. To view this artist's HOME page, click or visit: https://www.delafont.com/music_acts/wyclef-jean.htm **
Booking Wyclef Jean - Rap Music Artists - Contemporary R&B, East Coast Rap, Alternative Rap - © Richard De La Font Agency, Inc. - For serious booking requests only, click here: For More Information
In the pop 'n' fresh world of music, it's not that difficult to make a splash and become a phenomenon. What's really hard is becoming an artist and sustaining and developing a legitimate and substantial career.

Those wanting an answer to that question might look to Wyclef Jean, because in this superstar you have the blueprint for both commercial success and creative potency. From his groundbreaking work with The Fugees to his genre-defying solo debut "The Carnival - featuring Fugees Allstars" to his acclaimed and Grammy-winning production and songwriting credits for, among others, Destiny's Child, Whitney Houston (the top ten smash "My Love Is Your Love") and Carlos Santana (the number one hit "Maria, Maria"), Wyclef Jean broadened and expanded the reach of hip-hop culture.
Wyclef has been putting his own spin on things since he first began making music. The son of a preacher, Wyclef was born in Haiti and, over the years, has emerged as a leading champion of that country, serving as a spokesman for many issues and heading up the Wyclef Jean Foundation to help children both in Haiti and the United States. Wyclef moved to Brooklyn's Marlborough Houses when he was nine years old. "I'm all about the projects. I was raised with this training from the church and the streets and the parks and it's what developed me as a person and as an artist."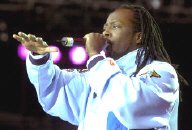 Wyclef received his first guitar from his mother. By high school, he had moved to New Jersey and where he majored in jazz. By the early 1990's he had formed a hip-hop group, The Fugees, with Lauryn Hill and Prakazrel "Pras" Michel. The trio toured non-stop and their 1994 debut, "Blunted On Reality," earned them good press but not much commercial attention. Undeterred, Wyclef and his cousin and musical partner Jerry "Wonder" Duplesis seized production control of The Fugees next effort, which, in 1996, would emerge as "The Score," one of the largest-selling and most influential hip-hop records in chart history.

"The Score"'s staggering sales (more than 11 million units worldwide) and critical acclaim helped secure Wyclef's status as one of hip-hop and R&B's hottest producers. He went on to produce a diverse roster of acts including Cypress Hill, Sublime, Bounty Killer and Simply Red.

In 1997 Clef released his solo CD "The Carnival - featuring Fugees Allstars," which spawned the hits "Staying Alive" and the moving "Gone Till November," which earned Clef a Grammy nomination for Best R&B Vocal Performance, Male. Praised for its freewheeling, multi-cultural sound, "The Carnival" has been certified double platinum by the RIAA. Following the album's release, Wyclef toured, produced a slew of hip-hop and R&B recordings (including fellow Fugee Pras's hit "Ghetto Superstar"), participated in a televised tribute to Johnny Cash, and hosted two all-day fundraisers benefiting the Wyclef Jean Foundation.

A musician with an activist's heart, a guitar-slinging microphone bandit, a seasoned veteran with an ear to the streets, Wyclef Jean has come along way and brought hip-hop along on his journey.
Hit songs include --
Gone Till November
We Trying To Stay Alive
911
Cheated (To All The Girls)
It Doesn't Matter
Sweetest Girl (Dollar Bill)
New Day
Two Wrongs
Guantanamera
Party To Damascus
Perfect Gentleman
Thug Angels
To All The Girls
Low Income
Industry
Take Me As I Am
Wyclef Jean may be available for your next special event.
For booking information, click HERE!
---
To book Wyclef Jean for your special event, contact Richard De La Font Agency, Inc.
For faster service, this is required first - click on this link: https://www.delafont.com/contactselect.htm
For serious booking requests only.
Thank you for this consideration.