PRINTER FRIENDLY PAGE. To view this artist's HOME page, click or visit: https://www.delafont.com/music_acts/zucchero.htm **

Booking Zucchero - Latin Music Artists - Italian Pop, Modern Electric Blues, Political Folk, Pop/Rock - © Richard De La Font Agency, Inc. - For serious booking requests only, click here: For More Information

Adelmo Fornaciari was born in Roncocesi near Reggio Emilia on 25 September 1955. He moved with the family to Forte dei Marmi (Tuscany) where, between 1970 and 1978 he formed his first bands: "Le Nuove Luci", "Sugar & Daniel", "Sugar & Candies". By then he was already known as Zucchero, after the nickname given by one of his teachers at the junior school. He takes R&B to all clubs around town with his friends, but to make ends meet he has to write songs for other artists, songs of various kinds and of other genres than R&B.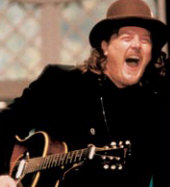 In 1981 he wins the Castrocaro festival, (a music festival open to newcomers only), with the song "Canto te".
In 1982 he competes at the Sanremo festival with the song "Una Notte Che Vola Via".
In 1983 he competes for the second time at the Sanremo Festival with the song "Nuvola". The same year, he records his first studio album entitled "Un Po' Di Zucchero". Rhythm 'n' Blues has to wait a little more. He leaves for San Francisco to visit Corrado Rustici who introduces him to Randy Jackson with whom he shares a common musical feeling; Zucchero's life comes to a turning point.
Zucchero comes back to Italy in 1985 with a new band featuring Randy Jackson on bass, Corrado Rustici on guitar, Walter Afanatieff on keyboards, Giorjo Francis Perry on drums. With the release of "Zucchero & The Randy Jackson Band", the career of this Emilian artist takes a new turn. He competes at the Sanremo Festival with the song "Donne" and, despite ending last but one, he obtains the favors of the critics and of the radios. After San Remo, Zucchero is to make another all important contact for his career with his manager, Michele Torpedine, still with him today.
The album that follows in 1986 is a real masterpiece: "Rispetto". Recorded between San Francisco, Milan, Bologna and Modena, it features Narada Michael Walden, David Sancious and Brian Auger who worked with Zucchero's band. One track stands out among the others, "Come Il Sole All 'Improvviso", whose lyrics have been penned by Gino Paoli, also featured on vocals on the track only on a special benefit single version. "Rispetto" tops the charts at its very release.
Zucchero triumphantly competes at the Festival with "Canzone Triste" and, in the Summer, at the Festivalbar.
1987 is the "Blue's" year, the year Zucchero becomes a star. Recorded with Corrado Rustici and David Sancious who teamed up for the occasion with Clarence Clemmons and The Memphis Horns, "Blue's" has a clear international imprint. Every song in the new album tells its own story, Every track is so completely different and original from the others with a totally International imprint that the album has all the characteristics for becoming a fundamental episode in Italian music history. Each song from "Blue's" has a unique, unmistakable sound: from the charming "Dune Mosse", to the ironic "Pippo", or the sobbing "Con Le Mani"; the lullaby, "Bambino Io, Bambino Tu" and the more aggressive "Non Ti Sopporto Più"; the catchy "Senza Una Donna" and the soul-nostalgic "Hey Man" lead the way to the most playful track of the album, "Solo Una Sana E Consapevole Libidine Salva Il Giovane Dallo Stress E Dall'Azione Cattolica"; lastly, a melancholic, sweet song: "Hai Scelto Me". The beauty of the album is confirmed by its commercial success: over 1 million three-hundred-thousand copies sold in Italy alone or, the highest commercial breakthrough ever reached by a pop music album in Italy.
The tour that follows has a terrific success. The band backing Zucchero is formed by Eric Daniel and James Thompson on saxophones, Mike Appelbaum on trumpet, Luciano Luisi on keyboards, Giuseppe Martini on guitar, Michele Leonardi on drums, Jody Linscott on procussions, and - for the first time- Lisa Hunt: a black vocalist, a on breathtaking vocalist Zucchero met on the streets of London. The most notable artist to appear with Zucchero during three gigs of this tour though is Joe Cocker, who duets with Zucchero for an unforgettable version of "With A Little Help From My Friends".
In 1988 Zucchero's fame reaches Europe: he plays in Germany, Belgium, France, Holland, Spain, and Switzerland; he plays in theatres whose capacity does not exceed three thousand people, but the response of the audience is immense. For the first time he lends his talents to write a musical score for the movie "Snack Bar Budapest", directed by Tinto Brass.
In the meantime, Miles Davis is intrigued by "Dune Mosse", and Zucchero jets off to New York to record a new version of the song with him.
In 1989 London Records releases "Blue's" in England. Nobody can stop Zucchero now. On 13th June the same year Zucchero's fifth studio album, "Oro Incenso E Birra" is released. This album exceeds by far "Blue's" achievements. It breathes an even more international air - the heart and soul are one, Mediterranean colors and patterns melt to give a groove owing a lot to blues, the music Zucchero has always loved. "Oro Incenso E Birra" sees the cooperation of most of the musicians who worked with Zucchero on "Blue's", with the exception of Eric Clapton, whose guitar solo is what makes "Wonderful World" so unique. Francesco de Gregori wrote the Italian lyrics of "Diamante", one of Zucchero's best hits to-date. Between July and September Zucchero embarked on a successful national and international tour.
In 1990 "Oro Incenso E Birra" is released in England; most of the lyrics have been adapted by Frank Musker. To support the album Zucchero went on a double-bill European tour together with Eric Clapton; the two performed twelve nights, the first of which at London's Royal Albert Hall. On 8 and 9 December Zucchero plays at the Kremlin in Moscow. During the set he duetted with Randy Crawford on "Imagine", and Toni Childs on "Many Rivers To Cross". Moscow's Vivaldi Orchestra accompanies him on "Any Time".
In 1991 Zucchero records with Paul Young "Senza Una Donna" (Without A Woman). The single tops the charts in almost all European territories and - incredibly - reaches the second position in the UK charts. The song, released also in the United States, reaches the fourth position in the singles charts. The following single, "Diamante" also tops all the European charts.
Zucchero develops a strong professional and human relationship with Sting. He writes the lyrics for the Italian version of "Mad About You", "Muoio Per Te" featured in Sting's "The Soul Cages" album.
Brian May then personally invites Zucchero to join him and the other two members of Queen at the Wembley Stadium in London for the "Freddie Mercury Tribute", where he performs "Las Palabras De Amor", and where all the most important contemporary international rockstars are on the bill.
"Miserere", Zucchero's 6th studio album, was released internationally on 1 October 1992 in an Italian and an English version. The album features eleven brand new tracks written in such diverse and inspiring places as the Camargue, Kenya, London, Dublin, Liverpool, New Orleans and Zucchero's own home in Italy. The title track is a duet with the Maestro Luciano Pavarotti; for the European English version of the album the lyrics of "Miserere" were adapted by Bono of U2. The song reached the 11th position in the UK charts. The album release had been anticipated the previous Summer by the release of "L'Urlo", whose video clip was directed by Phil Joanou. For the first time ever, the single was marketed in the video format only.
On 27th September '92 the first edition of the "Pavarotti and Friends" charity gig was broadcast live internationally from Modena on most of Europe's major channels. This was the first in a series of benefit concerts now held yearly that Zucchero and the Maestro Luciano Pavarotti started in order to collect funds for charity purposes. Every year the most important world-renowned pop artists take part in this event. In 1992, when Zucchero and Pavarotti duetted together, among the international artists who took part in the event there were Sting and Brian May, to name a couple. The video and album of the event received brilliant commercial results, so much so that the former was marketed also in the US.
In 1992 Zucchero and Pavarotti started the project called " Pavarotti & Friends": the project will became one of the most important musical events in the world where the most famous rock stars cooperate with classical stars for benefit and charity aims.
In 1993 on 25 January the European tour started from the Forum venue in Assago (Milan), followed by the Italian tour in Summer. "Miserere" is presented with a multi platinum (7) certification for the sales of over 1,4 million copies in Italy and in Europe. On 12 May 1993 at Montecarlo's Sporting Club Zucchero is awarded the prize for the "Year's most successful Italian singer" at the 1993 World Music Award.
Early in January 1994 Zucchero starts working on the project of a South American release of his most successful hits which are translated by Fito Paez, a renowned Argentinean star. The Greatest Hits that follows is entitled "Diamante" and Zucchero flies to South America for a promotional tour lasting six weeks. He visits all the capitals and the most important cities of South America. On 13th August in Saugerties he performs at Woodstock - the sole European artist to be there. The band that supports him is the same on the "Miserere" tour. Back to Italy, he starts working on the new album.
In September 1994, immediately after taking part at Woodstock, Zucchero started working on "Spirito DiVino". Early in 1995 he spent three weeks at the A&M Studios in Los Angeles recording some early tapes with longtime producer Corrado Rustici (on guitar), Polo Jones (bass), David Sancious (keyboards), Lisa Hunt (backing vox), and Steve Smith of Journey's fame (drums). During these weeks, the sole distraction for Zucchero came from the evening dedicated to John Belushi held at the House of Blues hosted by Jim Belushi and Dan Akroyd where he was invited to perform "Diavolo In Me" and "You Are So Beautiful" to an audience of LA' s VIPs. Once the LA recordings were over, Zucchero flew to Death Valley, and then to Las Vegas shooting a video documentary of the album recordings.
"SpiritoDiVino" was released worldwide on 27 May 1995. The title's double meaning is a constant in Zucchero's world - a subtle line dividing and uniting altogether the sacred and the profane. In "Spirito DiVino" Zucchero has explored a world where real values and rooted traditions coexist with goliardery and transgression goliardery, and anything that is not "institutionalized". The album concept lies in Zucchero's desire to dive into the musical scene of New Orleans - where the album was recorded, to capture the sound and the atmosphere of the Mississippi delta.
During the recordings in New Orleans at the "Boiler Studio", Zucchero was joined by the New Orleans Gospel Choir, Johnnie Johnson - a pianist known for his works with Chuck Berry, Leo Nocentelli (the Meters), a living legend from New Orleans and Pat MacDonald of Timbuk 3 who played harmonica and wrote some of the English lyrics of the album.
"Voodoo Voodoo" (first promo single of Spirito Divino) and "X Colpa Di Chi?" played by the Memphis Horns, and Clarence Clemmons's sax solo on O.L.S.M.M. were recorded in San Francisco. "Papà Perchè", an autobiographical song, and one of Zucchero's favorite tracks, is dedicated to his father. Guitars on this very song are played by Jeff Beck, drums are by Stewart Copeland.
The link and bridge between New Orleans and the Po Valley (an area in northern Italy home to Zucchero) at first glance very distant, but in reality close in terms of culture, agricultural tradition and lifestyle - since they share a common passion for strong feelings, gaiety and irony, were represented in "Spirito DiVino" by the Honky Tonk piano and dobro guitars; vocals and drum parts with Sheila E. were recorded at the Umbi Studios in Modena while the English version was recorded and mixed at the "Air Studios" in London. Most of the songs in "Spirito DiVino" except "Pane E Sale" (by Francesco de Gregori), and "Senza Rimorso" co-written with Alberto Salerno, are by Zucchero.
The album remains in Italy's best-selling record chart for an amazing 75 weeks non-stop. Spirito Divino holds the first position for many months scoring a first for an Italian record.
This extraordinary album is presented to the public during the "Spirito DiVino Tour Mondiale 95/96" (his 16th Italian tour, 5th European tour and the 1st American tour) which touches all of Europe's great open air festivals. The Italian tour begins on 18th September '95 at Brescia's "Palasport" and winds up with three consecutive concerts at Milan's "Forum di Assago" on 19/20/21 October. All 17 Italian concerts are a sell out.
The band that accompanies Zucchero comprises: Luciano Luisi (keyboards), Mario Schilirò (guitar), Polo Jones (bass), Frank Tontoh (drums), Massimo Greco (wind instruments), James Thompson (sax) and Lisa Hunt and Mino Vergnaghi (backing vocals). This tour was full of surprises and stars : Brian May plays Madre Dolcissima in Bologna, Paul Young sings Senza una donna in Verona, and in Rome Zucchero invites also Francesco De Gregori and Corrado Rustici.
From 17th October - 29th November 1995, Zucchero plays 29 concerts all over Europe, and in great demand, returns to Italy for another series of performances. A year passes on the road, coming to an end on 20th December at Parma's "Palasport" with the Christmas Concert which is recorded by Italy's second state TV channel and transmitted on prime time on Boxing Day.
A limited re-edition of Spirito DiVino comes out on 1st December 1995 (World wide AIDS day) with a free CD single - "Un Piccolo Aiuto", a wonderful song from the Zucchero & The Randy Jackson Band album (1985) played live throughout the tour to remind the public of the AIDS problem and raise funds for the organization chaired by Prof. Luc Montaigner, "World Foundation for Research and Prevention of Aids" who was present in person at the concert in Milan at the "Forum di Assago" on 10th October.
On 13th April 1995, after the Mexico City concert, Zucchero's USA tour sets off from "Warfield", San Francisco. After two unforgettable concerts at the "House of Blues" in Los Angeles, the tour then covers Chicago, Toronto and New York with great success.
Once back in Europe, from May to July, Zucchero plays more than 30 concerts in France plus an extra 7 dates in Italy in cities not included in the first part of the tour. The band is still the same except for the new drummer, Derek Wilson.
September 1995: for the "Pavarotti International" event, Zucchero and Maestro Pavarotti sing "Così Celeste" in duet, accompanied by the child choir, the Antoniano of Bologna .
On 23rd November 1995, Zucchero has the honor of presenting U2 with the Best Group of the Year Award, the most prestigious of the evening, at the MTV Europe Music Awards held in Paris.
Zucchero closes the traditional Labor Day concert of the 1st May, held in Piazza San Giovanni in Rome, in front of 400,000 spectators.
On 29th May 1996, Zucchero flies to Amsterdam as the special guest of Holland's most important network. He appears in the "Ddeviyour Show" representing the "Pavarotti & Friends" project (Pavarotti & Friends is the title of the album produced for the occasion of "Pavarotti International" 1995, sold all over the world in favor of the World Child organization). Zucchero is presented with a double platinum record while "Sugar" in turn presents a check for $300,000 to the "World Child" representative raised from sales of the record.
In the middle of his 1996 European tour, before going to South America where "Spirito DiVino" is also released with some tracks adapted in Spanish by Fito Paez, he stopped over in Monte Carlo early in May to collect the prize for "World's Best Selling Italian Artist of the year 1995".
Zucchero is once more present at "Pavarotti International" on 20th June 1996, singing Il Volo and Un Piccolo Aiuto.
The next day Zucchero performs, as best artist of the year thanks to sales of Spirito DiVino - over 400.000 copies - at the 10th edition of "La Fete de la Musique de la Republique" an annual event held in Place de la Republique originally thought up by the Culture Minister Jack Lang.
Zucchero is the only Italian artist to be invited to the Montreux Jazz Festival on 11th July 1996 where he plays together with the legendary Little Richard.
In the same month, "Spirito DiVino" (over 2 million copies world-wide) is awarded the "IFPI Platinum Europe Awards"in Belgium, event created on purpose to award all the artists selling over one million copies in Europe.
The World Rhythm Festival takes place at the "G. Meazza" stadium of Milan on 17th July and Zucchero participates in favor of Liberia with a rare performance together with Chicago's King of Blues, Buddy Guy.
The "Best Of Zucchero Sugar Fornaciari's Greatest Hits" was released worldwide on 21st November 1996, an anthology including hits over the last ten years ( from 1986 up to 1996) including Donne of 1985.
"The Best Of Zucchero Sugar Fornaciari's Greatest Hits" includes three previously unreleased titles :Menta e Rosmarino, Eppure Non T'Amo and Niente Da Perdere. The other tracks which complete the collection are: Donne Remix (1985), Rispetto Remix (1986), Senza Una donna (1987), Con Le Mani (1987), Madre Dolcissima (1989), Overdose (D'amore) (1989), Diavolo In Me (1989), Diamante (1989), A Wonderful World (1989), Il Volo (1995), Così Celeste (1985), X Colpa di Chi? (1995), Hai Scelto Me (1987).
The Best Of... is presented on 15th November 1996 to the European Press with a concert at "Le Reservoir" in Paris for 200 guests. A new European tour sets off from Hungary, ending a month later in Germany.
That same year on 15th December, Zucchero holds an open air concert at Brunico, Plan de Corones, on Europe's highest stage - 2,000 m. altitude - which is recorded for Raidue, Italy's second state channel, as the Christmas Concert, broadcast on 26th December at 2.00 p.m.
This intensely active phase closes with four more concerts: two at the Forum di Assago, Milan (16th and 17th December) and two in Sicily (20th Dec. at Trapani's Palasport and 21st Dec. at Acireale's Palasport) with the idea of uniting rather dividing Italy.
Upon release the album went straight to # 1 in Italy (11 x platinum), where it stayed for 6 consecutive weeks. Thanks to some massive hits like "Il Volo\My Love", "Menta e Rosmarino\I Won't Be Lonely Tonight", and also to some old ones like "Diamante", "Senza Una Donna" and "Diavolo In Me", Zucchero's "Best Of" charted all over Europe: # 1 in France for 5 consecutive weeks (double platinum), # 2 in Switzerland (double platinum), # 4 in Portugal (gold), # 5 in Belgium (gold), # 7 in Austria (gold), # 10 in Germany (gold), # 15 in Holland (gold).
The "Best Of Zucchero Sugar Fornaciari's Greatest Hits" was released in territories as distant as Japan, Malaysia, South Africa and Argentina, and gained media attention in the US - where it is released on Mercury Records - thanks to Zucchero's April tour that took him to such prestigious clubs as the House of Blues in LA, and kicked off with his participation to the Rainforest Benefit held at NY's Carnegie Hall with such performers as Sting, Elton John and Stevie Wonder among others.
In 1997 a special edition of The Best Of ... containing Va Pensiero by Giuseppe Verdi as a bonus track, comes out. This aria from Verdi's Nabucco is an adaptation by Zucchero and Luciano Luisi with new lyrics by Mino Vergnaghi. Thanks to this new version, Va Pensiero becomes a kind of lullaby dedicated to the "Rainforest Foundation" founded by Sting and his wife. Va Pensiero comes out all over the world also in a single CD version climbing to the top of the international charts.
On 23 February 1998 Zucchero was invited as a special guest to the "Annual Grammy Award Gala" in New York. During the Award week Luciano Pavarotti was rewarded as "Musicares Person Of The Year ": Zucchero joined the Gala with other artists like Sting, Aretha Franklin, Gloria Estefan etc. and played his version of "Va pensiero".
The "Best of" has sold more than 3 million copies to-date.
On 5th October 98 "Blu" is released: it's the first single from his brand new studio album "Blue Sugar". With "Blu" it is also the first time that a single by Zucchero is released commercially in Italy, in both the Italian and English version. Lyrics of "Blue", the English version, are written by Bono of U2.
9th November 1998:The release of Zucchero's ninth album "Blue Sugar". It is both the arrival and the beginning of a new creative period of the artist. The Blues are always there, but melted with new sounds of English rock style guitars, typical of this end of millennium.
12 November 1998: Zucchero is special guest at the 1998 MTV Awards at the Forum of Assago in Milan, Italy.
Hit songs include --
Wonderful Life
Baila Morena
Tutti I Colori Della Mia Vita
Other notable songs include --
Menta y Romero
Pero No Te Amo
Dame Mi Sol
Diamante
Lenxa una Donna
El Diablo en Mi
Chicas
Wonderful World
My Love
She's My Baby
Por Culpa de Quien?
Va, Pensiero
Zucchero may be available for your next special event.
For booking information, click HERE!
---
To book Zucchero for your special event,
contact Richard De La Font Agency, Inc.
For faster service, do this first - click on this link: https://www.delafont.com/contactselect.htm