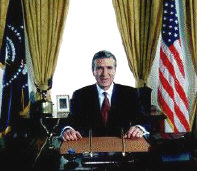 Brent Mendenhall is in demand as a "George W. Bush" double in TV, films, corporate meetings and political gatherings. Brent frequently appears on "The Tonight Show with Jay Leno" and has done international television work as well. The Washington D.C. Times says, "Mendenhall is widely recognized as the first and most famous 'Dubya' double."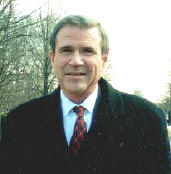 To complement his natural talents, Brent has pursued training and experience in stand-up comedy, narration and dialect. The combination of "the look" and "the voice" transforms Brent into the President of the United States.
Brent Mendenhall's uncanny resemblance to President George W. Bush was first recognized in the mid-90's by some friends in Dallas. Brent began doing the impersonation as a funny, non-professional imitation for friends and family, and eventually graduated to Jay Leno's Tonight Show and beyond. Brent brought his act to national prominence in much the same way President Bush told Sam Donaldson he pursued the Texas Ranger deal – "Like a pit bull on the pant leg of opportunity!"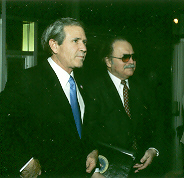 The Missouri native had been a construction and marketing executive since his graduation from the University of Missouri in 1971. A career as a Presidential look-alike followed. During this time, Brent was active in local community theater as a civic group toastmaster and as a construction industry business speaker.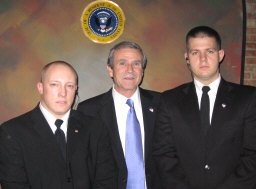 Brent's life, along with the President's, has had several parallels through the years. This definitely helps Brent with the understanding of the Bush character he portrays. For instance, both of them grew up in politically active families with a strong mother running a household consisting of several boys and one girl. Baseball was their favorite sport. Both received business degrees and were more involved with fraternity and campus activities than they were the books. After graduation, both pursued business interests similar to their fathers and joined the Methodist Church. Both married in their thirties, and coincidentally, they each cut back on their partying in the mid-eighties. Both have two children, as well as a dog named Spot. Ambos hablan Espanol, no el mejor.
George W. Bush bought the Texas Rangers, became Governor of Texas, and subsequently the President of the United States. Brent Mendenhall became an entertainer...

Brent strives to present a characterization that is humorous, intelligent and tailored to the client's gathering. He takes pride in providing clients with their full money's worth.

"Now, you all behave yourselves and I'll try and do the same."
Here's what the press are saying about Brent Mendenhall:
Washington D.C. Times - "Mendenhall is widely acknowledged as the first and most famous 'Dubya' stand-in!"

Los Angeles Times - "Mendenhall was on a roll at the Reel Awards!"

New York Post - "Brent was turning heads and raising eyebrows at the Democratic National Convention!"

Texas Monthly Magazine - "This Bush is a plant!"

Kansas City Star - "The resemblance is so uncanny that Mendenhall draws stares when he enters the room!"

South Florida Business Journal - "No wonder some people might have thought what looked like George W. Bush was 'Dubya' in the flesh!"
Here's what others are saying about Brent Mendenhall:
Mike Wilson, Coors Brewing - "Brent's performance at the Coors Western Regional sales meeting really had the audience fooled, until they started laughing!"

Dwight Potts, Midway Ford-Sterling - "His appearance at our customer appreciation golf tournament, complete with Secret Service and a limousine, was a hole in one!"

Steven Sponder, CEO BizProLink Network - "We looked at several George Bush look-alikes. Brent is exact!"

Daniel Seifried, Integer Group Advertising Agency - "Brent was professional with his act and mannerisms. Our client thought the show was worth the money and intends to use him again!"

Fred Escamilla, Houston Resident - "Brent's appearance as the Texas Governor at an area diocese fund-raiser really drew in the crowd!"

Jay Leno, The Tonight Show - "Yeah, you got the look! Are you an actor?"

Larry King, CNN - "I interviewed the Governor two nights ago. You look a lot like him!"

Sean Hannity, Fox News - "Hey Bush guy, you look just like him!"

Vance DeGeneres, Comedy Central - "Spooky!"

E. D. Donahaye, Fox and Friends - "He looks just like him, doesn't he?!"

Dave Barry, syndicated humor columnist - "I know Jeb and I see the family resemblance. Let me tell you a funny story about Barbara..."

Jack Oliver, Deputy Chairman, RNC - "You look just like him (Bush) you know!"

Bill Bradley, New Hampshire - "You had me fooled for a minute there!"

Bev Smith, American Urban Radio - "Honey, you sure look like Bush!"

Unidentified US Capitol guard - "Wow, you really surprised me. They didn't tell me they were going to let him (Bush) out today!"

Unidentified Secret Service Agent - "Spooky!"

Helen Thomas, veteran AP White House correspondent and well-known liberal - "Yeah, you look like him. You even look like his father. Your eyes aren't as beady and shifty as his though!"

George W. Bush to Brent Mendenhall - "Best wishes!"
Brent Mendenhall delivers a professional and humorous look-alike presentation as George W. Bush, the President of the United States. He is available for corporate, political and private events deserving of a 'Presidential' visit.
A typical appearance includes --
10-20 minute show, which includes an entry with "Hail to the Chief," crowd handshakes, a humorous political speech and a handshaking exit. After that, often the client will set up an area so the audience can have photos taken with "The President." The pictures make excellent meeting souvenirs! As an option, the client can arrange for "Secret Service" escorts and maybe even a "Presidential" limousine.
Brent Mendenhall as George W. Bush may be available for your next special event!

Rating:
DG
For ratings guide, click here.

Based: ..in Missouri / based nMissouri
..in Nevada / based NevadaMO

Flies out of: Kansas City, Missouri