Have you thought of inviting Joan Rivers to appear at your next event? Maybe she is not available or not in your budget, but her fabulous impersonator, Dee Dee Hanson, just might be!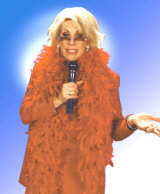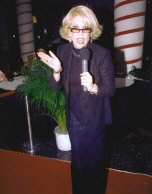 Impressionist, comedienne, singer, actress, all describe America's most incredible Joan Rivers impersonator and multi-talented performer. Dee Dee Hanson has been professionally performing since 1989. Her versatility and ability to engage her audience in comic repartee have been instrumental in the dramatic growth of her career and has resulted in bookings throughout the United States with more and more requests for encore performances.
Dee Dee's enchantment with the limelight was apparent at an early age. Her father, a former New Englander and who is an Al Jolson sound-alike, and her mother, an effervescent Peruvian, encouraged music and dance, believing they were important ingredients for a happy life. Thus, it seemed natural to Dee Dee that she "entertain" anyone who would watch or listen. In later years she sought formal training in drama at Cal State University, Fullerton.
Her inner voice kept prompting her, whispering, "You can entertain. You can make people laugh! It's there, just give it a chance." The result? Now Dee Dee Hanson is participating in charity functions and variety shows, doing stand-up comedy, performing in an improv group, and is in demand to entertain at corporate functions.
The "Joan Rivers" characterization came about as a result of a suggestion by a perceptive person who noted a natural visual and vocal similarity to the "real" Joan. It certainly was a natural fit. Dee Dee's first appearance at a corporate event as "Joan" was a standout! She knew she'd found her niche upon her arrival. Attendees milled about, watching, asking, "What is Joan Rivers doing here?" They crowded around, asking for her autograph. It was a message – and truly a glorious beginning.
She is excellent for Conventions, Trade Shows, Mix and Mingle, Award Banquets, Celebrity Roasts, Master of Ceremonies, Las Vegas Style Reviews, and more....
Dee Dee Hanson as Joan Rivers may be available for your next special event!
For booking information, click HERE!
Rating:
DG, DPG
For ratings guide, click here.

Based:
..in California

Showcase video available.