Television & Radio Personality & Stand-up Comedian
Family Therapist – Ordained Minister – Author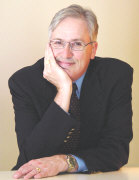 Dr. Will Miller was the on-air spokesperson for television's popular "Nick-At-Nite" network for more than six years and was the host of the NBC talk show, "The Other Side."
The holder of four graduate degrees, Will is an author and newspaper columnist. He was the spokesman for the National Institute of Mental Health and is a frequent guest and commentator on a variety of television networks, including CNN and NBC. His presentations have been enthusiastically acclaimed by hundreds of companies and organizations, including IBM, Microsoft, Blue Cross/Blue Shield, Phillips Petroleum, Viacom, The United Way, Merrill Lynch and Publix Supermarkets.
Dr. Miller's impressive academic credentials and varied professional experiences uniquely qualify him to deliver the message. And his years as a successful comedian enable him to do so while keeping your audience thoroughly entertained!
The uncertainty of the American economy has obviously changed the issues facing many companies and organizations. Dr. Will Miller's presentation addresses these important concerns with the same style and substance that have worked so well during the "up" times.
Throughout the years of record economic growth, Will's messages about life balance and enjoying success while being more productive at work has resonated deeply with audiences.
That message is just as important now. His presentation teaches people how to cope with stress and worry and how to handle transition and uncertainty, all the while continuing to work together productively and maintain healthy personal relationships.
By incorporating comedic routines into his thoughtful observations on life and stress – moving, literally, from lectern to stand-up mike – he helps his audiences step back and laugh at the daily challenges of life and take away practical tips.
A frequent guest on a variety of television shows, including Larry King and Rosie O'Donnell, Dr. Will Miller has been profiled on NBC's Dateline and in People magazine. Will is a contributor to Entertainment Weekly and was a spokesperson for the National Institute of Mental Health. His books include "Why We Watch – Killing the Gilligan Within" and "Refrigerator Rights."
What others say --
Larson-Juhl:
"Leadership Through Quality & Teamwork"
"I want to convey my sincere appreciation for an absolutely outstanding performance at our National Sales Meeting in January. It was truly a big hit; even today people are singing the "Ponzio" song! I'm hoping you will be able to join us for another meeting at Larson-Juhl."
-- Mike Cairnes


State of Connecticut, Department of Children and Youth Services:
"Thanks again for an outstanding and very funny keynote speech! Conference evaluation forms indicated that our staff loved you and appreciated the special insight you provided on their jobs.
It was a real mood up-lifter! I especially appreciate the time and effort you put into learning about our Department and developing a unique presentation. It was very special."
-- Brenda J. McGavran, Region II Director


Rhode Island Bar Association:
"I have had nothing but positive feedback. This is the first Annual Meeting we've had in years where the audience didn't jump up to leave, but rather had to be told that the party is over.
Thanks again. It was a great pleasure."
-- Helen Desmond McDonald, Executive Director


United Way of Greater Lafayette and Tippecanoe County, Indiana, Inc.:
"If you hold this letter up to your ear you can still hear the applause and laughter reverberating from the job you did for us at our Kickoff last week. I cannot honestly think of any luncheon event we've ever had which generated the positive response which you did! In short...WE'RE TICKLED TO DEATH! Thanks again for all you did. I know how much time you put in on preparation for these things and it's time you can hardly spare. But you did it and we're better for it."
-- Dick Jaeger


Kiwanis International:
"I am writing on behalf of Kiwanis International to express our appreciation for the wonderfully motivating and captivating lecture that you delivered at our 1998 International Convention in Montréal, Canada. Your talk was so well received by those in attendance! Your reputation for good humor is obviously well deserved, there wasn't an empty seat in the house!"
-- Leah Nichols, Manager, Meetings and Promotions


Blue Cross/Blue Shield of New Jersey:
"We had the pleasure of bringing Will Miller to our company on Wednesday, October 7th to perform during our recognition of Customer Service Week. Will was a pleasure to work with and a real crowd pleaser. I would highly recommend him to other organizations."
-- Dana Verrone, Director, Customer Service & Membership, Corp. Div.
Dr. Will Miller may be available for your next special event!
For booking information, click HERE!
Rating:
DG
For ratings guide, click here.

Based: ..in New York / based nNewYork
and
Based: ..in Indiana / based nIndiana