PRINTER FRIENDLY PAGE. To view this artist's HOME page, click or visit: https://www.delafont.com/specialty_acts/craig-karges.htm **
Booking Craig Karges - Mentalists - © Richard De La Font Agency, Inc. - For serious booking requests only, click here: For More Information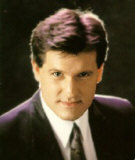 Craig Karges
"Master of Extraordinary Phenomena"
Craig Karges is a mentalist, an entertainer and a motivator. He combines a fantastic display of illusion and psychic happenings using total audience participation with a powerful message accentuating the potential of the human mind.
Somewhere between science and supernatural exists the realm of unexplained mysteries – what has been termed "E.P." or "Extraordinary Phenomena." At the forefront of this developing field is "extraordinist" Craig Karges (kar' guess). Exploring "Extraordinary Phenomena" on stage, Karges represents the next era in mystery entertainment.
The effects he creates on stage are uncanny. Blindfolded, he calls off the serial number on a dollar bill. Unspoken thoughts are revealed. Predictions are made and verified. Finger rings, borrowed from the audience, are linked into a chain. Objects move seemingly by the power of the mind and may even burst into flames. A table dances and flies into the air!
He has the skills of a psychologist, a psychic and a magician. He is awesome!
When he steps onstage, you begin to believe that nothing is impossible.
Craig Karges may be available for your next special event. For booking information, click HERE!
---
To book Craig Karges for your special event, contact Richard De La Font Agency, Inc.
For faster service, do this first - click on this link: https://www.delafont.com/contactselect.htm