"Presenting....The Theater of the Mind"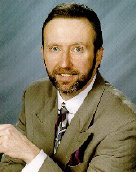 Robert Priest is a Mind Reader. His Theater of the Mind show is an exciting and unique entertainment experience which makes audience members the stars of the show.
This show is a skillful blend of mind reading and comedy – an act alive with action, laughs and mental challenges. With a remarkable presentation of memorization, an impossible blindfold routine and attention-grabbing whole-audience mind reading, the Theater of the Mind is the ONE show for mystery, drama and comedy.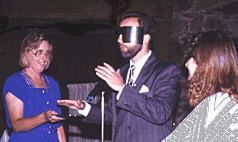 This is an act which allows full audience participation as the entertaining thoughts of the audience are read and weaved into an unforgettable entertainment program. Secretly-thought-of words, numbers, and other information which could not have been known beforehand are revealed and used to entertain, amaze and delight even the most skeptical audience members.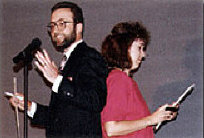 This is a unique entertainment experience which has helped event managers set the stage for applause-winning events for more than 20 years. Bob is perfect for your next convention, banquet, association meeting, sales event, party, hospitality suite or trade show. Tailor-made programs are also available to highlight organizational themes, corporate products, campaigns, sales messages, motivational concepts and other event-related theme messages.
The Theater Of The Mind is a thought-provoking entertainment event for structured groups. Working for maximum audience participation, Robert Priest uses the thoughts of audience members to make them the stars of the show. Audiences are amazed as he seems to pull words and thoughts from their minds. Presented with a professional polish and spontaneous wit that never fails to delight, the "Theater of The Mind" show moves smoothly from drama to suspense to hilarity. Experience first-hand the world of extrasensory perception!
This presentation will help make your program a complete success!
Robert Priest may be available for your next special event!

What others say --
Great Gatherings, Meeting Planners:
"Your talent and show were most enjoyable, but most of all your professionalism, without a prima donna attitude(!) really puts you in a very special class of performers!
I certainly will not hesitate to book you again, and actually would be honored to have you on any agenda!"
-- Kathy Tauber


Independent Insurance Agents of Pennsylvania:
"An amazing performance!"
-- Marshall Davis


National Association of Wholesalers-Retailers:
"The show was something new, different and great!"


Sears:
"Superb – the best program we've ever had!"


Ethan Allen Furniture:
"Amazing, amazing, amazing!"


Chrysler First:
"A perfect evening from start to finish."


Hagerstown Journal:
"Mind-boggling!"


Hood College:
"If you didn't believe at the start, you did at the end!"


International Lions Club:
"He enchanted the audience. The show was the highlight of my program chairmanship. Highly recommend Robert Priest!"


WFYI-TV, Indianapolis, IN:
"Amazed, bewildered and entertained!"
-- John Samples


Maryland Academy of Family Physicians:
"Fascinating....an entertaining exposure to concepts normally only read about."


McGraw-Hill, Inc.:
"Incredible! We should publish a book about you!"
-- Bruce Neylon


American Bonanza Society:
"You not only managed to engage the minds of close to 900 people, but you kept them entertained during the entire night – not an easy feat by any means!"
-- Heather Merabelli
Notable clients include --
American Institute of Banking
American Institute of Steel Construction
American Micro Tech
American Phoenix Insurance
American Subcontractors Association
Associated Builders
Chase Manhattan Banks
Chrysler First
Ethan-Allen Interiors
Excelon Corporation
Fisher First Medical
Fluid Power Distributors Association
Goldman Sachs
Hood College
Independent Mailing Equip Dealers Assn.
Independent Insurance Agents of Penn.
Johnson & Johnson
Litton Electronics
Lucent Technologies
MD Academy of Family Physicians
Maryland Bankers Association
Maryland Service Station Association
McDonald & Co. Investments
McGraw-Hill Publishing
National Association of Wholesale Distributors
New York Life
Pennsylvania Assoc. of Candy & Tobacco Distributors
Pennsylvania Institute of CPAs
Pennsylvania Newspaper Association
Pennsylvania Restaurant Association
Pharmaceutical Business Intelligence & Research Grp
Quebecor Printing
Phoenix Contact
Roy Rogers Restaurants
Sheetz Convenience Stores
Sears & Roebuck
Shippensburg University
Sonoco Inc.
South Dakota Bankers Association
Southern California Public Power Authority
True Temper Hardware
Unisys
Uniti-East Banking
University Press of America
U.S. Air Force Association
U.S. Army
VA Optometric Association
Wells Fargo Banks
Robert Priest may be available for your next special event!
Rating:
DG
For ratings guide, click here.

Based: ..in Pennsylvania / based nPennsylvania