How To Book DAN DUNN'S PAINTJAM For Your Event!
Dan Dunn's Paintjam may be available for your next special event!



Dan Dunn
Presents
"Paintjam"
Dan Dunn is an American improvisational speed painter and the creator of Paintjam, a theatrical performance art show in which paintings are created in minutes on stage.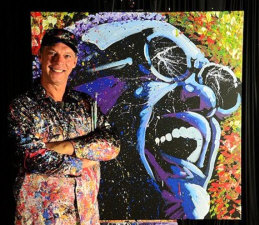 Dan Dunn paints astounding likenesses of celebrities as if by magic in just minutes! "Dan Dunn's Paintjam" is an exciting high-energy, improvisational painting performance. Watch in amazement!
He delivers a captivating performance and spectacular art!
Dunn has appeared on The Ellen DeGeneres Show, Last Call with Carson Daly and Late Night with Jimmy Fallon. He has performed all over the world, painting such people as Richard Branson, Turkish Prime Minister Recep Tayyip Erdoğan, Sheikh Zayed in Abu Dhabi, and Natalie Cole. He has opened or appeared with Shaquille O'Neal, Bill Cosby, Fergie, Chris Angel, Elvis Costello, Lionel Richie, Natalie Cole, Taylor Hicks, Taylor Swift, the Plain White T's, Maroon 5, Queen Latifah, Mike Rowe, Craig Ferguson and Carolyn Rhea.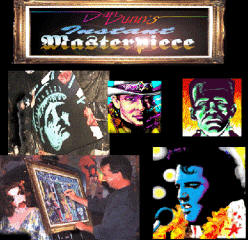 His heroic portrait of the NASA Columbia crew is on permanent display at NASA, Houston.
In 1995, Dan Dunn was commissioned to paint President George Bush, Sr., Barbara Bush and their dog, Millie.
Dan Dunn likes to perform a minimum of two paintings for most shows. Corporate logos or CEO's portraits may require additional time and study to put together. Between paintings, he visits with the audience and presents comedy observations.
Dan Dunn prefers celebrity faces to other subjects because of the difficulty and the "WOW" factor. However, other subject matter may be discussed or entertained as a possibility.
Planning an event? Give him a stage and Dan and his crew will take it from there. You have enough to worry about. His attention to detail will make your event a breeze and a huge success.
Our specialties: Corporate, Public, Fundraising, Private Parties, and Symphonies.
Requirements include --
Stage area size: minimum 20 ft. x 20 ft.
Audience must be a minimum 20 feet away from the canvas regardless of the stage size.
Purchaser must provide canvas drop cloth and all canvas, tripods and support systems.
20 ft. x 20 ft. black exterior carpet on stage area to be taped to the floor as a non-skid drop cloth. Latex paint from a local home center.
Black 4 ft. x 8 ft. foamcore sheets serve as canvas for most shows.
Stage is preferred. However, performance can be done on lawns and festival grounds for smaller groups.
For outdoor performance: Dusk or after dark is preferred. Direct sunlight or setting sun is unacceptable. Wind can be a hazard. Rain can cancel a show.
What others say --
Thank you very much for the entertaining halftime performance at the February 15th Houston Rockets game. I can't begin to tell you how much I appreciated your hard work and flexibility with this performance.
-- Mike Shnieders, Asst. Manager, Game Operations-Floor, Houston Rockets and Comets
Repertoire includes --
Elvis
Marilyn Monroe
Einstein
Tiger Woods
Yao Ming
Stevie Ray Vaughn
Frank Zappa
Louis Armstrong
Andre 3000 ("Hey Ya")
Ray Charles
American Eagle
Robert Earl Keen
Lady Liberty
Dan Dunn may be available for your next special event!

For more suggestions, proceed to the next page.
Click here --
Specialty Acts Roster
Or, click on one of the below links --
Music Menu
Fast Index
Entertainers Directory
Home