The Jay Leno Clone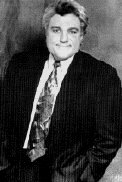 The Tonight Show ushered in Marcel Forestieri as a CLONE of Jay Leno. Forestieri sounds just like the late-night host, and looks as much like him as someone could without a chin implant. He has Jay Leno's delivery down cold in recreating a monologue based on news and politics, and even gets Leno's little vocal tics right in connecting the jokes: "What will Al Gore do now? "I guess we can pretty much rule out a vacation in Florida," he says with Leno's sarcastic protraction.
Jay Leno saw him perform and had him do it on "The Tonight Show." Since then, they've brought him back three more times. This exposure has allowed Marcel Forestieri to break into the corporate market for live entertainment, where he has performed for major corporations all over the United States.
Marcel Forestieri has been impersonating celebrities virtually all of his life. What started as just entertaining friends and family quickly grew into a professional career. Right out of high school in the early 70's, Marcel toured professionally as one of the only Elvis Presley tribute acts of its day.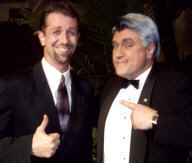 Marc Nelson of the
Richard De La Font Agency
with Marcel Forestieri
In 1981, in his first theatrical audition, Marcel was cast to play the title role in "Bring Back Birdy" (The sequel to "Bye-Bye Birdy") on Broadway, with Donald O'Connor & Chita Riviera. His critical acclaim in this role led to other theatrical roles and a commercial voice-over career.
As a master make-up artist, Marcel Forestieri has developed many other characters that he performs for corporate and special events. In addition to his portrayal of Jay Leno, Marcel has toured impersonating game show host "Regis Philbin" in his own unique version of "Who Wants To Be A Millionaire?", entitled "Is That Your Final Answer?".
What others say --
Pinky Kravitz - The Times
"You'll think you're watching the real thing…I enjoyed it immensely."

Charles Einstein - The Star Ledger
"Marcel with his three-octave speaking range as Jay Leno…Clearly there is strength in the material, but the looks and moves are astonishing as well."

Randy Alexander - The Times
"Marcel Forestieri's Jay Leno is quite a refreshing character study. He does Leno as if he were delivering a "Tonight Show" monologue. In fact, it's incredibly current, and delivered with on-the-mark inflections and mannerisms."

Chuck Darrow - The Courier Post
"When Forestieri makes his entrance, it's double-take city. His silver-streaked hair and jutting jaw give him a spooky resemblance to the "Tonight Show" host. He also has his subject's voice down pat, as well as his mannerisms (especially that quizzical face Leno often makes)."
Marcel Forestieri as Jay Leno may be available for your next special event!

Rating:
DG, DPG
For ratings guide, click here.

Based: ..in Nevada / based nNevada
..in Las Vegas / based LasVegasNV