"3-D Art in Concert"
"When imagination exceeds reality, dreams are born."
The above quote sums up the life and works of internationally renowned artist Michael Israel. A world-class visual artist, Michael's works have been featured in galleries, publications, on television and in corporate ad campaigns.
His "Art in Concert" performances have thrilled audiences around the world. Always on the cutting edge, Michael Israel defines art in the new millennium.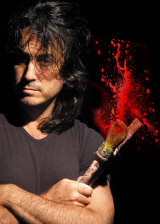 The atmosphere is electric when Michael takes the stage. It is an eye-opening thrill you won't believe, if you don't see it for yourself!
His show opens with a brief introduction, and then the spectacle begins. The music explodes and the paint starts to fly! With several paintbrushes in each hand, sometimes using only his hands, Michael Israel transforms a larger-than-life, rotating canvas into a spectacular, 3-D art masterpiece within minutes!
The painting bursts with creativity and color, whether it is a celebrity portrait, whimsical cityscape, or an exotic, one-of-a-kind custom-rendering. Michael Israel's art falls somewhere between magic and a virtual reality ride as images appear to leap right off the canvas.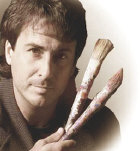 Michael Israel is considered a master in many mediums and has created art forms never seen before. Among them are 3-D performance art painting and holographic metal sculpture. Thousands of fans have donned 3-D glasses to view Michael's mesmerizing, holographic, virtual-reality renditions.
He has performed live on television and USA Today, and numerous other publications have featured his works. He has been quoted in Time Magazine as being "a master of the airbrush" and his oil paintings have graced magazine covers and collectible fine art prints.

Marc Nelson of the
Richard De La Font Agency
with customers and
Michael Israel
Brilliant with a computer mouse too, his digital artwork has captured the imaginations of millions in galleries and corporate ad campaigns.

The American Heart Association presented Michael with the first place Steve Yates Media Award.
Absolut Vodka named him their "ABSOLUT FLORIDA" artist and commissioned him to created ads and a series of collectible hand-painted bottles
NBC featured him at the Coconut Grove Arts Festival (rated #1 in the USA) where he took center stage to inaugurate "Flamingos in Paradise," a South Florida sculpture project that he was instrumental in creating.
Michael Israel's corporate clients include Absolut Vodka, Hyatt, IBM, Walt Disney Co., Eckerd, Smith Kline, Knoll Pharmaceuticals along with private collectors, including Liza Minnelli, Senator Joseph Lieberman, Florida Marlins owner John Henry, Governor Jeb Bush, and Miami Mayor Alex Penelas.
Currently, he is touring across the country, entertaining, educating, and enlightening audiences with his "3-D Art in Concert!"
Michael Israel may be available for your next special event!

Rating:
DG
For ratings guide, click here.
Based: ..in Florida / based nFlorida