"Designing For The Sexes"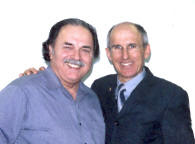 Richard De La Font
and
Michael Payne
Michael R. Payne, the host and designer of HGTV's "Designing For The Sexes," obtained a bachelors degree in physics and mathematics from Southampton University in England. After ten years in the computer industry, during which he was transferred from England to the United States, he decided to pursue a career in interior design and graduated from the UCLA interior design program in 1980.
While attending UCLA, Michael Payne gained experience with a Los Angeles based design firm which specialized in high-end, international clients. He founded Michael Payne Design in 1980, offering interior design services to clients in both the residential and commercial sectors. His firm offers a variety of design services, including interior and exterior design as well as landscape, furniture and architectural design. He offers design services to clients on a national and international basis, with clients ranging from locations as far away as Japan and Tahiti.

Michael is a member of the American Society of Interior Designers (ASID) and is a Certified Interior Designer in the State of California. His projects have been published internationally.
Michael Payne was the spokesperson for Shaw Industries, the worlds largest manufacturer of carpeting, in 1996. In addition to "Designing For The Sexes," he has been featured on national television as a designer to Hollywood celebrities and on "Interior Motives." Various radio stations have interviewed Michael Payne "on-air" and he has been the guest speaker at design events and conferences throughout the United States. Michael Payne and his show "Designing For The Sexes" have been the subject of numerous newspaper and and magazine articles throughout the country.

An avid runner, Michael has completed six marathons and numerous 10K races. His interests include gardening, automobiles, and antique toys.


Michael Payne may be available for your next special event.
For booking information, click HERE!


Back to Roster of Speakers

Fast Index

Home

Rating:
DG
For ratings guide, click here.

Based: ..in California
..in Los Angeles

Professional booking requests only.

(Sorry, no exceptions.)

This is not a fan site.

Do you need to print copies?
For a special page designed for printing or e-mailing, click here.

booking information for Michael Payne

incorrect spelling: michel payne, maikel payne, maikel pain, maikel paine, micheal payne, michael paine, michael pain, mich, micha, michae, michael p, michael pa, michael pay, michael payn, michale pain, michale paine, michale payne

Consider this your official booking agency web site –
The booking agent who works for you!