When Pat Simpson appears at consumer shows across the country, his audiences have fun, and equally as important – so does Pat. With more than ten years of home shows under his belt, he's convinced that people don't attend home shows to be lectured. They come instead to be entertained while they soak up as much information as their tired feet will allow.
Pat gets his audiences involved in his presentation. Who has a leaky faucet? A painting problem? Wet basements? Rotted wood? A bad hair day? He has his favorite home enhancement topics for discussion, but he also addresses some of the crowd's issues. He surprises his audiences with a free gift and lots of laughs and of course they all leave with huge smiles on their faces.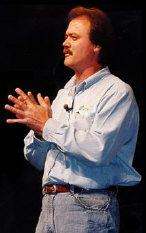 For more than two decades, Pat Simpson has been recognized most as national television's home building and remodeling expert. His earlier years of hands-on building experience led him into television in 1988 when he hosted the national home improvement series, Backyard America, on TNN. In 1994 when HGTV, Home & Garden Television launched, Pat hosted one of the first series in their lineup, Fix-It-Up! Since that time, new shows were created and he became Host and Technical of the popular shows Before & After and Room To Improve. On these programs Pat shows more than 90-million households each week how to enhance the inside and outside of their homes with weekend projects and whole-house makeovers. He truly has become one of the most trusted names in home improvement.
When not on location for television and radio, Pat Simpson can be seen at more than 25 major markets per year for media tours, public appearances at Home Shows, Home Center Grand Openings and as spokesperson for various nationally known manufacturers. In fact, even though he spends most every day working with or being around tools and projects for the shows, Pat spends some of his off time in his own shop trying to finish his own projects. He is also a contributing writer for trade publications.
Pat Simpson may be available for your next special event!

Rating:
DG, DPG, DR
For ratings guide, click here.

Born: ..in Texas / born nTexas
..in Beaumont / born BeaumontTX
Feb 28, 1945

Raised: ..in Texas
..in Beaumont

Based: ..in California / based nCalifornia
..in Los Angeles / based LosAngelesCA