"He knows what you're thinking!"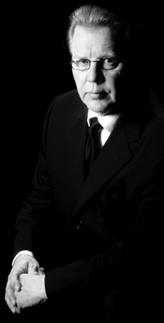 Who is Ross Johnson? Simply stated, he is America's number one – and most successful – psychic performer and entertainer.
Ross Johnson knows that you're skeptical about ESP! He knows you don't believe in mind reading, second sight or mental projection. He also knows...what you're thinking!
For more than two decades Ross Johnson has entertained, mesmerized and mystified audiences with his astounding and unexplainable mental skills. He has amazed even the most cynical skeptics with his remarkable ability to see what can't be seen or hear what can't be heard.
Ross Johnson has appeared at exclusive hotels, local clubs, cabarets, diner theaters, sales meetings and corporate conventions throughout the world. The list of corporate clients who have seen Ross perform reads like a "Who's Who" of the Fortune 500.
Much more than simply a showman, Ross Johnson is a perceptive performer and a highly polished entertainer who leads his audience through an interactive and highly participative experience. His personal enthusiasm, engaging personality and professional demeanor add to the wonder of his virtually limitless repertoire of mind reading and mental projection. Audiences are spellbound by his intuitive powers and his master of the psychic art. His mental feats also generate a profound sense of mystery that seem to defy rational explanation. Ross Johnson does not merely involve members of the audience, he astounds them.
His ability to read minds is uncanny! Ross is a master of intuition and demonstrates effective methods of memory and mental imaging that have thrilled and confounded audiences world-wide.
Whether you are a believer or a skeptic, when it comes to psychic powers or ESP, you can be sure of one thing – Ross Johnson will amaze you with his performance!
He will meet your entertainment needs –
---
What Others Say About ...
Ross Johnson
Ace Hardware Corporation:
Paint Division
(to the Richard De La Font Agency)
"Ross Johnson was very entertaining! His material was very appropriate for our group (a newly hired cadre of sales people), and he was a fun break in a series of working meetings.
We will definitely use Ross in the future."
K.C. Gordon, Director of Sales & Marketing
American Bar Association:
Meetings and Travel Department
"You can read minds... you can, you can! You have no idea how wild some of the things you said to our group were. In an association so steeped in politics, hidden agendas, and all those other unspoken things, some real gems popped right out of your mouth. You can be sure that I will recommend you every chance I get because I think you are just terrific! What a show!"
Mary Cavallini
American Surety Association:
"Your abilities are truly amazing! The audience was full of professional skeptics, for as you know, they are professional underwriters of high risk surety bonds -- i.e., paid to be skeptics. Truly a tough crowd to convince...but you certainly did! Thanks for sharing your talent."
David V. Strauss, President
General Mills, Inc.:
Consumer Foods Sales Division
"What can I say other than... Outstanding! Four years ago you performed for our group and ever since then you have been the most talked about performer we have ever had. It was this reason that made me skeptical of asking you back. I thought, "How could you ever repeat your performance?" Well, a couple of nights ago you did just that.
Our group was fascinated, intrigued, baffled, mystified and just plain entertained the entire time you were on stage. You certainly possess a great talent.
Again, thanks for making it an evening for everyone to remember."
David C. Ambrose, Region Operations Manager
IntraMed Educational Group:
"Thank you so much for entertaining the group of neurologists on Saturday evening. Even with this skeptical group, you captivated the physicians and they are still analyzing and trying to demystify your performance.
Again, many thanks."
James W. Oxnam, Director
Arthur Andersen & Co, SC:
"Thank you very much for your outstanding presentation during our December training meeting. It was definitely the highlight of our day. Everyone truly enjoyed your presentation and raved about your performance.
Thank you for adding to our day and for helping make it a success."
Christine Z. Robinson
Ameritech:
Cellular Services
"Just a short note to thank you for the remarkable job you did at our business event last week. I enjoyed working with you and look forward to doing so again in the future."
Ed Magnowski, Director, Customer Operations
Thermo Industries, Inc.:
"Thank you for providing our customer groups with two evenings they won't soon forget. Your fascinating, unique performances captivated our audiences to the point that six months later, they are still speaking of you!
You certainly made my job as meeting director a much less stressful one, as you were the consummate professional and a pleasure to work with. I look forward to our next opportunity to work together."
Jody Noe, Corporate Communications Manager
FMC Corporation:
"I'm sure you're no stranger to such comments on your performance as "astounding," "extraordinary," "incredible" or even "shocking." But your recent appearance at our meeting dinner was all those and more.
Capping off a full day of crunching through critical business issues, your presentation reinvigorated our group and provided the mental refreshment that energized everyone for the next round of sessions.
Thank you again for helping make our meeting a hit with your transcendental performance. We're all looking forward to having you back again in the near future -- I'm certain you've already marked the dates!"
Jeffrey S. Garnes, Communications and Meeting Management
---
Notable Clients of ...
Ross Johnson
American Airlines
IBM
Sears
American Bar Association
Kraft
Baxter
Scott Fetzer
Motorola
Capital Cities/ABC
JI Case
General Electric
Household International
Lazard/Freres
Marriott Hotels
Saks Fifth Avenue
The New England
Southland Corporation
Amoco
McDonald's
Newell
NBC Television
Abbott
General Mills
Zenith
TRW
Andersen Consulting
General Motors
Sara Lee Foods
Ameritech
Wheels, Inc.
Cooper Tire
Hewlett-Packard
---
For more suggestions, proceed to the next page.
Click here --
Mentalists Roster
Rating:
DG
For ratings guide, click here.

Based: ..in US
Based: ..in Illinois / based nIllinois
Based: ..in Chicago area / based ChicagoIL area
Based: ..in Inverness / based InvernessIL